Free Shipping*

Free Returns

Authentic
Atmos
Atmos Jump Dry Herb Vaporizer Pen
Dry Herb
10% OFF Coupon: SLICKDAILY
(Sale Ends Soon!)
---
Features:
Durable & Compact
Carbon Fiber Housing
Easy Access Mouthpiece
Heats Evenly & Efficiently
Powerful 1200mAh Battery
Anodized Heating Chamber
Single Optimized Heat Setting
What's Inside the Box:
1 x 1200mAh Lithium-Ion Battery

1 x Easy Access Mouthpiece

1 x Packing Tool

1 x Cleaning Tool

1 x Micro-USB Charger

1 x User Manual
Our mouthpiece was accidentally dropped and broke. We glued it as well as we could. It still works, sort of. How can I order a replacement or do I need to just purchase another vaporizer?

Hello Larry. You may purchase Atmos jump replacement mouthpiece here https://slickvapes.com/products/atmos-jump-replacement-mouthpiece

Can you get a cloud of smoke when hitting the AtmosJump?

Hey Dave, the Atmos Jump Vaporizer does not produce a cloud of smoke like with vape mods. If you would like larger hits, we would recommend waiting 30 to 45 seconds for the unit to reach temperature. Then take a long, even draw for around 10 seconds. This should produce ample vapor.
Customer Reviews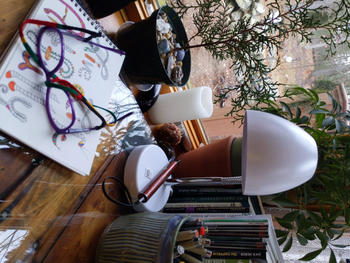 01/05/2022
I recommend this product
I love these little pens. I've used them for about 6years or so. I'd ask that one spare mouthpiece be included in each box. It would be very helpful.
patricia G.

United States
08/04/2021
I recommend this product
Pretty decent ...gets the job done
It's worth a try..
Anonymous

United States
06/24/2021
I recommend this product
My 94 year old father thinks it's great!
I bought the Atmos jump vaporizer as a Father's Day gift for my 94-year-old father who was having some issues with his digestion he was suffering from a lack of appetite and the Atmos jump fixed him up perfect. It helped him sleep again. He's a new man, thanks to slick vapes
Carolyn W.

United States
05/14/2021
I recommend this product
Awesome
Simple, good product.
Brian P.

United States
03/26/2021
I recommend this product
Nice entry level pen
Wanted something easy to try. This pen is exactly that. Pack it, 3 clicks then wait 1 min for it to turn green and enjoy. The high is different than a bowl. It's good just different. Try for yourself. Do not over pack chamber. If you want to try dry herb pen, I would recommend the Atmous Jump
Anonymous

United States
12/20/2020
Still waiting
Havent received it yet hasnt even left nevada
Thomas L.

United States
10/28/2020
I recommend this product
Recommend
I highly recommend this product. It heats up herb nice and even and give its a great flavor. Super easy to use for a first time dry vapor like myself. I did a lot of research and this seemed to be one of the best on the market.
Allie N.

United States
08/25/2020
I recommend this product
Perfect for if living in a college dorm
my go to will always be rillos but this was perfect for my sophomore year in college when I lived in the dorms... and for at the bus stop definitely good for beginners, but be sure not to pack it too tight, and clean the mouth piece regularly
Julz

United States
07/11/2020
I recommend this product
Easy to use. Good for beginners
I like the options that this vape opens up for me. It is very easy to get started. The smell is pleasantly toasty. Not much vapor, but that's not a deal breaker. I like that I can try new herb and share with friends even in these covid times. The issue is the same as I guess a lot of dry herb vapes. I feel like I'm constantly grinding, packing, emptying, cleaning, etc. Also the grinding of herb stinks up my bathroom so as discreet as the vaping is, the prep work is not. So. This is a nice little easy to use vape, and though it might not be the first thing I reach for, I'm glad I have it. Oh. p.s. I had read that it was small and discreet like an e-cig. That's categorically false. It's the size of a small recorder or a snake charmers flute. So unless you have "Three Blind Mice" playing from your phone or sitting in front of a wicker basket, people will know what you are doing in public. :-)
Anonymous

United States
Price Match*:
Want to buy Atmos Jump Dry Herb Vaporizer Pen for sale online at the cheapest price?
Visit Slick Vapes to find the best discount and deals. We can match the sale price of any authorized dealer so you can purchase with confidence. All price matches will be subject to verification and approval. (Exceptions) Please Note: due to contracts and agreements with certain brands and merchants we may not be able to offer this.
---
Share this Product