1
Free Shipping

Free Returns

Authentic
Dr. Dabber
Dr. Dabber Aurora Vaporizer
Concentrates
Features
SnapTech Magnetic Technology, No more messy screw on connectors!
Adjust the temperature with the 3 setting variable voltage battery.
Dual Coil Atomizers for Faster Heating
5 Second Heat Up Time
Sleek & Discreet High Quality Matte Satin Finish
Optional Accessories
---
LIMITED QUANTITIES AVAILABLE 😅 !!!
See Dr. Dabber Accessories here.
Another masterpiece product from Dr Dabber has been released in the market. The all new Dr. Dabber Aurora (Aura) is a very stunning wax and concentrate vape pen. The sleek design of this vape pen is best suit for any wax vapor smoker who wants to take their vaping experience into a next level. The Doctor Dabber Aurora is made from the finest material that can resist any drop or scratch. The durability of this vape pen is very unique compared to any other brand of vape pen.
Warranty - 1 Year (Dr. Dabber):
One year manufacturer's warranty for Doctor Dabber products including but not limited to the "Boost", "Aurora", "Ghost" and "Light" vaporizer pens. Included is a  'No Questions Asked' warranty on all batteries and chargers. For warranty claims you may either contact us directly at slickvapes.com or the manufacturer.
SnapTech Magnetic Technology
No more screwing of atomizers, The Dr. Dabber Aurora has an all new technology called snapTech that no other vape pen brand has. This feature will let vapers to easily separate the atomizer from the battery and the mouthpiece from the atomizer. This magnetic technology can hold everything really tight but can be easily removed with your hands with less hassle. Now you can easily and quickly charge or replace parts of your vape pen.
Dr. Dabber Aurora has a feature of variable voltage technology, new atomizers in which you can easily connect it with the battery and the snapTech magnetic technology that can hold it tight. What's more unique with Dr. Dabber Aurora is it has more features that no other vape pens has.
All-in-One Wax Pen
On the box, Dr. Dabber Aurora comes with 3 different atomizers. With the help of the new magnetic technology, you can easily snap the atomizers in. Because of the demand that there are different types of wax and concentrates, some are thick or has different density, Dr. Dabber come up with an idea to expand the range of wax and concentrates being used with the all-in-one advance atomizer. Not like with other brand or manufacturer, they think that a single atomizer will be enough. This what makes Dr. Dabber Aurora very impressive, not only its very convenient to use but it will also let you use any type of substance.
Variable Voltage Battery
The 3 different heat settings will let vapers to control their dabbing. Lowest temperature setting is best of casual dab experience. If you want more intense dab session then you can increase the voltage. A led lights will also indicate different heat settings. You can easily switch settings using the power button.
Overall Impression
As of now, we think this could be the best dab pen for sale. The advance atomizers with snapTech technology will give vapers and awesome and seamless experience not seen on any other wax pens. The Dr Dabber Aurora is definitely leading in the ranking of top dab/wax vaporizers around the world. Temperature controls and 3 different atomizer selections along their optional globe attachment (sold separately, or available as a kit) make this one of our most recommended and versatile wax pens available.
Features:
SnapTech Magnetic Technology

Matte Satin Finish

Sleek & Discreet

Ceramic Mouthpiece

Variable Voltage Battery

Multiple Advanced Atomizers

1 Year Warranty

5 Sec Heat up time
What's Inside the Box:
3 Atomizers:

1 x Dual Quartz Rod Atomizer 
1 x Ceramic Halo Atomizer
1 x Dual Ceramic Rod Atomizer

2 Ceramic Mouthpieces:

1 x Shotgun Mouthpiece
1 x Contoured Mouthpiece

1 x Loading Tool 
1 x Dr. Dabber Keychain
1 x Shatterproof Silicone Container
1 x Magnetic USB Charger 
1 x Instruction Manual
What's Inside the Box (Limited Edition AHOL):
1x Dr. Dabber x AHOL Stash Can
1x Dr. Dabber X AHOL Limited Edition Aurora
1x Ceramic Halo w/Quartz Dish Atomizer
1x Dual Ceramic Heating Rod w/Quartz Dish Atomizer
1x Dual Quartz Heating Rod w/Quartz Dish Atomizer
1x AHOL Concentrate Mat

1x AHOL Pin
1x Loading Tool
1x Shatterproof Silicone Container
1x Instruction Manual
1x Magnetic USB Charger
1x Keychain
What's Inside the Box (Limited Edition Aaron Kai):
1 x Matching Carrying Case with Zipper
1 x Aaron Kai x Aurora Vaporizer
1 x Dr. Dabber Aurora Battery
1 x Dual Ceramic Rod Atomizer
1 x Dual Quartz Atomizer
1 x Concentrate Tool
1 x Ceramic Mouthpiece
1 x Magnetic USB Charger
1 x Dr. Dabber Keychain
Box Dimensions: 6.25"x4.5"x3"
Limited Edition Releases
are you able to attach those cbd cartridges on this pen if you wanted to? i have some & i've been looking for a pen that would be able to do both wax & switch up too the cartridges.

Hello Makenna. You'll have to purchase a 510 Thread Attachment Adapter https://slickvapes.com/products/aurora-magnet-to-510-thread-attachment for you able to attach cartridges to this pen. 

Does this come with the shotgun mouth piece that is advertised in their website as well?

Yes, the kit comes with two ceramic mouthpieces. One is shotgun style, the other has an ergonomic shape.

Does this come with shotgun mouthpiece

Yes, the Aurora kit here comes with two ceramic mouthpieces. One that's contoured and another shotgun for more airflow.

Can this pen be used with oil concentrates also. Or just wax dabs?

Yes, Three unique atomizers are included: Dual Quartz Rod with Quartz Dish: Suitable for lower viscosity oils Dual Ceramic Rod with Quartz Dish: Suitable for waxier oils Ceramic Halo Heater with Quart Dish: Suitable for higher viscosity oils

Can you smoke herbs with this pipe?

No, the aurora is made for concentrates, wax, and shatter type material. Thanks for your question!

Does it come with a free grinder it says free shipping free grinder athentic

Some devices including the Dr. Dabber units do not come with a free grinder. See our free grinder exclusions.
Customer Reviews
02/01/2020
Aurora vaporizer love
I love this vaporizer so much and I've used a lot of them from yocan magneto to dazzvape and my dr dabber to me is the best by far I haven't even used any other vaporizer since I got it th experience is so much better that the burnt taste I got from the others and no wasting your medicine the aurora is super efficient with having the choice the 3 atomizer my person favorites are the dual ceramic and quartz
Giscard G.
United States
01/30/2020
It's great
bought for my boyfriend and he loves it. uses it all the time.
Taylor P.
Canada
09/15/2019
Solid
U can tell by the weight that this a serious vape!
Christopher H.
United States
07/01/2019
I was not happy about
I was not happy about how quick the coil ran out and stopped working but everything else was good
Donald C.
United States
03/01/2019
The pen
I liked the first one so much I bought this updated version. It's very easy to use and easy to conceal when out in public or at work place. Highly recommend. I prefer the concentrated cbd.
12/09/2018
Great
If you are looking for something to replace pre filled cartridges and save you money in the long run, look no further. This thing is great! only issue was with the doughnut atomizer draining into the mouthpiece however this was most likely caused by user error placing device in a horizontal position when contents were still worm and liquified other than that thing works great very sleek and descent plus there are replacement atomizers so you don't have to replace the whole device when the coils burn out and it comes with all three types so you can find what works best for you.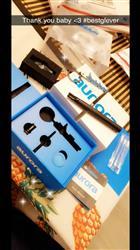 07/29/2018
Best thing I ever got my boyfriend
My boyfriend had been talking about wanting to get a vape pen for the longest time and I decided to do a bit of research on what vape pens were good. This came up and I saw its specs and it seemed good. I got it for him as a gift and he absolutely loved it! I'm planning on getting one for myself too!
11/26/2017
Best pen for wax or oil!!
works great easy to keep clean and works well out of box. no problems with battries or charger! buying one for my dad!!
JENNIFER D.
United States
07/27/2017
Awesome!!!!
Bought 1 for my girlfriend. She loves it! Now I gotta get another for myself.
Price Match Guarantee*:
Want to buy Dr. Dabber Aurora Vaporizer for sale online at the cheapest price?
Visit Slick Vapes to find the best discount and deals. We can match the sale price of any authorized dealer so you can purchase with confidence.
---
Share this Product