Free Shipping*

Free Returns

Authentic
Mig Vapor
Mig Vapor Khan Dry Herb Vaporizer
Dry Herb
Features
Aerospace Aluminum body
Under the hood: 2200 mah internal battery' A + Quality Cell
1/2 gram chamber, biggest in the industry
Optional Accessories
---
The Mig Vapor Khan for dry herb - The vaporizer that will bake you your dry herbs every time. Up to 464 degrees of hot air vaporizing herbs with Isolated air path that keeping the cool air flowing in.
What do we love about the Khan? Simple easy to use with minimal learning curve. Clouds of vapor at your request.
Lots of devices require time to figure out the best way to pack the material, figure out best temperatures, and draw speed. This device makes it easy for beginners to use and vapes clouds on your first try! 
Boasts one of the largest chambers in the industry at .5 grams (Huge). But you do not need to fill it all the way. In fact, we hardly ever do. This works very well with partially packed material.
Choose from Red and Gold or Black and Silver color variants, Khan Dry Herb Vaporizer is everything you think it should be, and much more. Khan is a state of the art metal Sculpture, integrating, power, function, art, and arguably the power house of herbal vaporizers.

For a limited time comes with a FREE PYREX Glass Bubbler. The Bubbler has a stainless metal threaded bottom balanced and attached to pure glass, that screws into the device with the precision of a swiss watch. Making your sessions cool to the mouth and lungs.



Features:
5 Year Limited warranty, factory limited warranty for factory defect - excluding battery abuse.
LED SCREEN Temperature settings from 302-464 Degrees Fahrenheit in single degree increments
Haptic Feedback - Vibrates when at desired temp
Thick pyrex glass mouthpiece, no plastics. Ceramic chamber
The snake on the red Khan, is gold plated nickel. ( Snake was designed and molded under expressed permission, for Mig Vapor by L. Gardini )
The snake on the black Khan is silver plated Built tough, this is a work horse.
Pyrex Bubbler built in Specifics Labs
What's in the box:
1x Khan Vaporizer
1x Glass Mouthpiece
1x Glass Bubbler (Water Filter)
1x Cleaning Brush
1x Tweezer
1x Micro USB Cable
1x Alcohol Tissue
1x User Manual
How to adjust temp?

To adjust temperature on the Mig Vapor Khan, hold the button for a few seconds while the device is "ON". The temperature will adjust by 10 degrees and loop through temperatures until you release the button. If you press and release the button while in temperature select mode you can fine tune the temperature. Once finished, release the button and the device will adjust to the new temperature.

Do you gave the Khan mouthpiece replacement available...also the Bubbler for the Khan?

Yes, we have the Khan Mouthpieces available and in stock now. The bubbler is a bit back ordered but should arrive by next week.

It says this contains nicotine. I don't want any nicotine. Do you have to use nicotine to use this? Please let me know ASAP

Hello! The Mig Vapor Khan Vaporizer does not contain nicotine.

where is the charger for this khan dry herb vaporizer

The charger comes with this kit. You may also use any micro USB charger to charge the Khan.
Customer Reviews
07/22/2020
I recommend this product
Very good vape
Love it! Better than PAX. Bigger draw.
Anonymous
United States
07/11/2020
I recommend this product
I absolutely recommend this vape. It gives a very smooth and flavorful experience. It doesn't burn and the temperature is easy to control. Just make sure you grind it up good and you won't be disappointed.
Tianna K.
United States
07/09/2020
I recommend this product
Shipped fast, no hassle
Ordered on Sunday, shipped Tuesday came Thursday, fantastic. Khan is great, feels great in your hand, hits smooth. Had the G Pen Elite and Dash (both awesome), but ths hits a little harder. Worried about the glass tip, could see it falling and breaking while loading material, something to look out for, all on all, great experience!
KMA
United States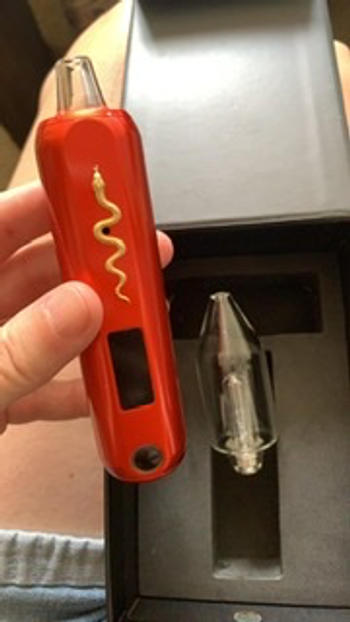 07/08/2020
I recommend this product
Best vape I've ever used
I really love this vape and I'm glad I decided to spend a little more money and get it. It does a great job of heating the herb without burning it and I like that it turns itself off after 5 minutes. I also like that there are no plastic parts. It's easy to clean and the bubbler attachment is awesome! Great product.
Anonymous
United States
06/26/2020
I recommend this product
Highly Recommend
This is my first dry herb vaporizer and I am in love, I have stopped smoking bowls completely! This feels sooo much better on my mind, body and soul.
Sierra R.
United States
06/21/2020
I recommend this product
Happy Man
I have been disappointed with Vape pens I purchased in the past but my God love my new Khan mig. I enjoy the large chamber and the design is great. 
Jose V.
United States
06/19/2020
I recommend this product
I'm glad I bought it
I was thinking of not getting it at first but after I just said I'm gonna buy it to give it a try and it was worth the money. Perfect herb vape.
Cristian D.
United States
05/17/2020
I recommend this product
Great vape
Hits well and has great size chamber
Anonymous
United States
04/29/2020
Best Investment
I have had the MIG Khan Vaporizer for about 2 weeks now. I was worried when purchasing as I have never had good luck with dry vaporizers. This thing gets the job done, conserves and is more discrete. So far, I 100% recommend.
Kristin F.
United States
Price Match*:
Want to buy Mig Vapor Khan Dry Herb Vaporizer for sale online at the cheapest price?
Visit Slick Vapes to find the best discount and deals. We can match the sale price of any authorized dealer so you can purchase with confidence. All price matches will be subject to verification and approval. (Exceptions) Please Note: due to contracts and agreements with certain brands and merchants we may not be able to offer this.
---
Share this Product