1
Free Shipping*

Free Returns

Authentic
Linx Vapor
Linx Ares Vaporizer
Concentrates
---
Want something different? This is a neat
straw type vaporizer
that has an exposed heating element which vaporizes when it touches your concentrate. All you need to do is inhale for terrific flavor! Great performance and similar to the popular "honey straw" only electronic ;).
Features:
For Wax Concentrates
1 Year Warranty
Pen Style
Lightweight
Large Clouds
Easy to Use
What's Inside the Box:
1 x Linx Ares 750mAH Rechargeable Battery 
1 x Linx Ares Ceramic Rod Atomizer 
1 x Linx Ares Magnetic Atomizer Cap
1 x Linx Ares Magnetic Pen Cap
1 x Stainless Steel Sheath
1 x Glass Mouthpiece
1 x Glass Container
1 x USB Charger
Similar products include honey straw. This is basically an electronic version.
QUESTIONS & ANSWERS
Have a Question?
Be the first to ask a question about this.
Ask a Question
Customer Reviews
07/06/2019
Great
It's fantastic for what it is. Perfect piece for my car. Doesn't dab thca very well. Shatter seems to give me the best hit. The battery life kinda stinks and I don't like the battery being in the same area as your Vapor. However I recommend it for people who don't mind burning through oil quick.
Matthew D.
United States
04/08/2019
Very Convenient
This pen is well built, and so much more convenient than breaking out a torch (not to mention much more discreet). Linx makes excellent products.
11/09/2018
Return my money to my credit card account unt
You sent me the wrong item. I returned it using the mailing label supplied by you. Please give me the refund. And DO NOT SEND the Ares vape. I want the refund!!
09/17/2018
Great CS
Read my previous review. My suggests re: charging and battery capacity notwithstanding, customer service was outstanding. They sent a prepaid envelope and returned a brand new, boxed and sealed replacement within days. It is sometimes true that you get what you pay for. You can get a $50 straw, made of plastic and somewhat disposable - or you can get this, the Rolls Royce of honeystraws for dabs.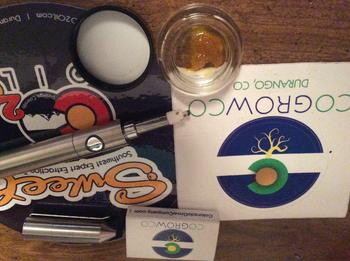 03/06/2018
Best electronic device ever....
Every aspect of this machine is high quality....and what's more important is it actually works well.... get this item now... I work in a dispensary in CO and have tried LOTS of ways to smoke concentrates.... this is the best by far..... you won't be disappointed..... great product..... again I cannot stress how awesome this thing is.... only thing I would change is adding a extra ceramic tip with each machine.....
11/22/2017
Awesome!!!
I just received my Lynx Ares in the mail. The package arrived quickly, (faster than projected), and in perfect condition. I immediately opened it and tried it out. I wish I had just bought this first instead of the Hypnos, but lesson learned. Despite the fact, it is not as discreet as the Hypnos, I'm in love with it already. And thanks to SLICK VAPES, I got it for 10% off. Thank you again and I will definitely recommend your company to my friends.
09/07/2018
Not all components are high quality...
I own 3 Linx products. My recently purchased Ares vaporizer has developed a problem with the control button - it popped right out of the unit after getting stuck! Linx vapor sent me a prepaid return label and the process was no worse than the other device manufacturers. They will evaluate and replace, if needed. They do not sell the control section. The entire unit is made of quality stainless steel, but there is a second problem... The battery, as someone pointed out, leaves much to be desired. It is internal to the unit, which you disassemble to remove and charge. A well designed product would have had the control section housing a female micro usb port. LINX: find another contractor in Shenzhen to make your control module and invest in a circuit design to include a charging port. Taking the pieces apart is not user friendly and competition is already hot on your heels with better designed straws, albeit in plastic not your high-quality machined steel. Why not perfect your product? Heck, you charge enough for it.
04/02/2018
Return Policy us ridiculous
The pen does not heat up any more, they want you to shot a video of the pen not working, which is something they are going to do when you return the pen. Also when I submitted a ticket their response was not received in my email, in box or junk box, I had to call them, and the only email that would come through was from the reps personal email account. I actually like the pen, but these are battery devices and they break more often than not, so to have the customer record a video of the pen not working makes no sense,! They need to figure that out on their end, don't bother the customer with that.
Price Match*:
Want to buy Linx Ares Vaporizer for sale online at the cheapest price?
Visit Slick Vapes to find the best discount and deals. We can match the sale price of any authorized dealer so you can purchase with confidence. All price matches will be subject to verification and approval. (Exceptions) Please Note: due to contracts and agreements with certain brands and merchants we may not be able to offer this.
---
Share this Product