1
Free Shipping*

Free Returns

Authentic
Puffco
Puffco Pro 2
Concentrates
We Also Recommend:
Features
Hard Carrying Case Included
Sesh Mode
3 Temperature Control
---
Limited Quantity Restock! These won't last, and no, this is not a scarcity tactic.
The functionality you know and love in a slim new form factor.
How is it Different?:
The Puffco Pro 2 uses an exposed ceramic atomizer coil which is different from the ceramic chamber disk in the puffco plus. Some users prefer this as it offers a hotter and thicker vape than the plus.
The perfect balance of vapor and flavor, the large capacity ceramic chamber has been redesigned for maximum efficiency. Now with Sesh mode, this little beauty packs a punch. No Glues, No Plastics, No Fibers.
What's in the Box:
1 x Puffco Pro 2 Vaporizer
1 x Puffco Pro 2 Ceramic Chamber
1 x Hard Case
1 x USB Charger
1 x Loading Tool
1 x Manual
As Featured In:
ALL DAY
The successor to High Times "Best Vape Pen," the Pro 2 is made from durable stainless steel and houses a large capacity coil-based ceramic chamber. With an impact resistant carrying case and enhanced battery life the Pro 2 is there for you whenever wherever.
Features:
OPTIMAL FLAVOR - The ceramic chamber has ceramic coils that creates strong flavor and tasty vapor that are hard to duplicate.
LARGE CAPACITY CHAMBER - A special ceramic blend enables massive cloud production. No glues, No plastics, No Fibers. 
THREE TEMP. SETTINGS + SESH MODE - Double click to enable Sesh mode on any heat setting for 12 seconds of continuous vaporization
DURABLE STAINLESS STEEL - The Pro 2 is machine from durable stainless steel, made to withstand whatever you throw at it.
EXTENDED BATTERY LIFE - With enhanced battery life the Pro 2 will keep up with you all day and all night, up to 100 uses per charge.
See our puffco coupons for our current deals and specials today!
looking for a herb vape. Is this recommended? I am new to vaping and not entirely satisfied with my "magic Flight". what can you recommend with a reasonable cost?

Hello. The Puffco Pro 2 is a wax/concentrate vaporizer not for dry herb. If you're looking for the best dry herb we'd recommend the Pax 3 - its currenty our best seller. https://slickvapes.com/products/pax-3-vaporizer-by-ploom

does it also work with hash?

Unfortunately not. Manufacturer advise to use Puffco Pro 2 for wax concentrates only.
Customer Reviews
05/02/2020
I LOVE this thing!
My friend had a Puffco plus and I really liked it so I got myself a Puffco Pro. The only complaint I have is the battery doesn't last as long as I'd like it to. It's become my favorite way to dab. It really reveals the flavor of the wax like nothing else does. Another friend tried mine but bought another pen and she said she deeply regretted not getting the Puffco. Excellent product.
DK
Denese K.
United States
04/28/2020
Excellent Vape!
This little power house of a Vape is built to last. It hits very strong and smooth!
Anonymous
United States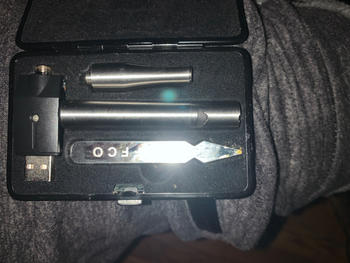 04/18/2020
Good wax pen no problems what so ever
Been looking for a good brand and found the puffco brand pen is great and can't wait to get the puffco plus to add to my collection
Willie L.
United States
04/14/2020
Awesome
This is really nicely made I looked at a lot of them and glade I went with this one!
Anonymous
United States
04/05/2020
Works Great
This product did exactly what it advertised to do. I like the sleek design. the only downside that I can see so far, is that I am locked into having to find and buy a apparently discontinued product. I wish I could have spent the extra 10 or $15 to get the puffco pro plus instead. In actuality, that is the product I thought I was buying. Having said all that, again, nothing works great! The value, can't be beat which is why I bought it here. Shipping was immediate, and had not the situation with the covid-19 been in play, it would have been delivered I am sure exactly as anticipated. Overall, I will stick with puffco and slick Vapes.
Rick B.
United States
03/15/2020
It's good and came in time
Betbetbetbetbet
Anonymous
United States
01/14/2020
Puffco is LIT
Already own and love the Peak. The Pro 2 meets and exceeds my expectations. Great for on the go!
Anonymous
United States
12/09/2019
Much better than the first one
I love the Puffco Pro 2 because the size and weight are so much better than the Puffco Pro. I have them both and will continue to use them both. But the size of the 2 is sleek and light. The battery life is also much better than the first one. I can keep a charge for 2-3 days vs the 24 hours on the original. I also wanted to say that SLICKVAPES was SUPER fast in shipping my item. I was worried I was going to have to wait a week and it was on my doorstep in 2 days. Thanks yall!
Jerome T.
United States
11/16/2019
These guys rock
The customer service, the dedication, but kindness, the thoroughness I am a now loyal customer
Matthew K.
United States
Price Match*:
Want to buy Puffco Pro 2 for sale online at the cheapest price?
Visit Slick Vapes to find the best discount and deals. We can match the sale price of any authorized dealer so you can purchase with confidence. All price matches will be subject to verification and approval. (Exceptions) Please Note: due to contracts and agreements with certain brands and merchants we may not be able to offer this.
---
Share this Product