1
Free Shipping*

Free Returns

Authentic
Pulsar
Pulsar APX 2 Vaporizer
Dry Herb
Use Coupon Code: PULSARDEALS to get 10% Off!
(Sale Ends Soon!)
Features
🔥 NEW COLORS IN STOCK! 🔥 Newest Version 2.0
5 Way Adjustable Temp Control (356°F - 428°F)
Convection Heating w/Ceramic Chamber
30 Secs Heat Up Time w/Haptic Feedback
Super Portable and Discreet - Fits in Your Palm (4" Tall)
Optional Accessories
---
The PULSAR APX 2 Dry Herb Vaporizer by Pulsar is a budget friendly, powerful, portable and lightweight device that fits perfectly in your palm. Upgraded from its predecessor, the APX 2 features a silicone cooling system and rubber multi-function button for a more controlled and comfortable touch.
The team here at Slick Vapes has given stellar reviews on the APX 2 scoring excellent on performance, value, and ease of use. 
This portable dry herb device is perfect for starters as it has a very little learning curve. 
This device remains the most popular of our dry herb vaporizers simply due to its stable operation, quality build and killer price point. it is no wonder why the APX 2 is our best selling vape in it's category!


It Just Got Better! 
APX 2 creates strong smooth vapor within 30 seconds. Not only it heats up faster but it has also an enhanced LED display for better control. Compared to its predecessors, it has a wider 10x16mm ceramic chamber plus a finely tuned temperature settings. Pulsar Vaporizers didn't hold back on features on APX 2 even with its low price. At a much lower cost than average units the APX 2 is a total gem!
Less Maintenance
Compared to the original APX the new design features an all silicone mouthpiece in place of the replacement screens. This lessens the maintenance and improves airflow. 
Performance
While it offers the same performances like the original APX, the new version is still impressive specially considering the price. 
Haptic Feedback
Although the new APX doesn't include the wax tank anymore, the addition of haptic feedback and new mouthpiece is more than enough to make up for it. The haptic feedback alerts the user once the devices reaches certain temperatures.
Stylish Design
Pulsar intentionally made it minimal but attractive at the same time. 9 different color/design to choose from. The refined finish makes the device feels more solid.
See Our APX 2 Reviews Below
What's Inside the Box:
1 x Pulsar APX V2
1 x USB Cable
1 x Cleaning Brush
1 x Loading Tool
1 x Replacement Silicon Screen
CLICK HERE TO DOWNLOAD:

APX 2 Accessories:
Shown above is the APX with optional Travel Case and 1.2" Aerospaced 2 Piece Grinder
Does the APX 2 heating chamber need to be fully loaded or will it work properly with small amounts of dry material?

In our experiences it works fine with lightly packed to the top, you may experience less vapor and draw effectiveness may decrease a bit but it still should work with small amounts.

What's the best way to clean the ceramic chamber? I use both the little brush and the scraper that came with it, but there's still a discoloring towards the bottom of the chamber. I really love this vape and want to keep it clean so it'll last as long as possible!

We recommend using alcohol swabs, or an alcohol wipe on a chopstick (in lieu of swabs).  Either of those methods will do the trick!

When will the psychedelic spaceman be back in stock?

Hi Leah, we're looking at a restock date of 9/15/2020 (Tomorrow). Thanks for your inquiry

When will the tie dye one be in stock again???

We currently have Tie Dye on backorder with the manufacturer directly. There is no official delivery time but we are first in line to receive them once they land in circulation. We recommend you add your email to the Notifications to get direct notice when they restock :)

What does the charge appear as on the bank statement? I have a joint account and would prefer "SlickVapes" to not show up.

Hi Alexander, our processor uses discreet billing and charges from our site will show up as "slick vps". Hope that helps :)

I need a vaporizer that has an easy draw or intake. How easy is this one to pull?

Hi Kaydee, I would say the APX 2 has an easy to moderate draw required. In comparison, the Mig Vapor Khan, or Davinci IQ have easy draws, while in contrast the pax has a moderate draw.

Does this vaporizer have ceramic coils? I heard that's one of the safest materials to vape

This APX 2 has a ceramic chamber with an internal heating element (conduction + convection) which does not have any exposed heating coils - the oven rises in temperature allowing to vape your dry material. The Pulsar APX 2 is nice because it doesn't combust your material directly like some "dry herb vaporizers". example: yocan evolve-D.

Do I need to purchase screens for this?

The Pulsar APX 2 does come with one installed screen so additional screens are not necessary initially. We recommend changing screens (as needed) once the screen has been soiled and affects taste and airflow of your vaping.

Is this a session or on demand vape?

The APX 2 is a session vape. Pressing the button 5 times will begin heating the oven, once display is solid and no longer pulsing (heat up phase) you may begin vaping as the oven is at the chosen temperature. Holding the button for 3 seconds once on will begin cycling through it's temperature settings.

does it come in discrete packaging?

Hello ambs. Yes, we place a very high value on your privacy, so your orders will always be shipped in plain, unmarked packaging. Our packaging is inconspicuous with no indication of the contents on the outer packaging; no Slick Vapes logo, no product indications.
Customer Reviews
01/21/2021
I recommend this product
Great value!
Simple to use, lightweight, and easy to clean. I also like the different designs!
Anonymous

United States
01/18/2021
I recommend this product
They really care about the customer
I bought a vape and waited for about 22 days... The carrier lost my item and I never got it, I placed the claim thorough email to the customer service department and they sent me the replacement after everything. I am really pleased in how serious you took my email. Thank you.
Jose C.

United States
01/17/2021
I recommend this product
Phenomenal
Great starter vape. Highly recommend for value. Weak battery though as in length of charge.
Shawn F.

United States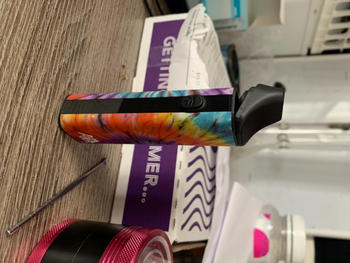 12/30/2020
I recommend this product
Awesome
This vape is awesome if you want to be discreet while toking.
Anonymous

United States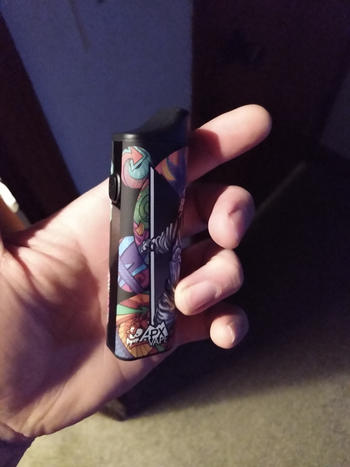 12/23/2020
I recommend this product
Not to shabby.
Draws a little tight and it hasn't been able to make me feel like the couch and I are one but it does take the edge off.Its great for on the go.I can take a couple nips to take the edge off and it's easy to conceal in the hand.No one really thinks twice about what was going on.Batterys not bad.I can get about 7 4 nip sessions off a charge on the 3rd setting.
Anonymous

United States
12/23/2020
I recommend this product
An upgrade from my last vape
Great product. Heats up fast with little wait time. Fits in a pocket or even a wristlet.
Rose F.

United States
12/21/2020
I recommend this product
Works Great
Works great for how i need it to! will recommend for the pice.
Edward C.

United States
12/19/2020
I recommend this product
Best I've bought yet
I love the way it looks and feels good just don't have to worry about pushing the button.
Tony A.

United States
12/15/2020
I recommend this product
Much cleaner feeling
This is my first vape product. It's easy to use and I can really taste the flavors in the herb. I'm still experimenting with the right temperature setting, herb consistency and other things. It definitely feels healthier on the lungs.
Ben M.

United States
Price Match*:
Want to buy Pulsar APX 2 Vaporizer for sale online at the cheapest price?
Visit Slick Vapes to find the best discount and deals. We can match the sale price of any authorized dealer so you can purchase with confidence. All price matches will be subject to verification and approval. (Exceptions) Please Note: due to contracts and agreements with certain brands and merchants we may not be able to offer this.
---
Share this Product