1
Free Shipping*

Free Returns

Authentic
Dr. Dabber
Dr. Dabber Ghost Vaporizer
Concentrates
Features
Smart Temperature Technology
2 Titanium Atomizers Included in Kit

5 Second Heat Up Time

1 Year Warranty
Optional Accessories
Extra Coils
---
See Dr. Dabber Accessories here.
The Dr. Dabber Ghost is a portable vaporizer best for your favorite dab, rosin, or wax concentrates.
The main feature of Dr. Dabber Ghost Vape Pen is its 2 included single coil titanium atomizers. The pen is preset and perfectly balanced so you need not to adjust any settings or functions, just turn it on and vape, perfect for both beginners and advanced users! It's also universally 510 threaded and will work with most cartridges!
The atomizer has a titanium design for a longer and better vaping experience. With Dr. Dabber Ghost you will never worry about wax combustion anymore. It has a 5-click lock function to maximize the battery life and a one click power activation button that makes it simple for anyone to use.
Dr. Dabber Ghost Features
Dr Dabber Ghost utilizes smart temperature technology which optimizes the performance to help preserve battery life. With the titanium technology, it will extract any substance to release its true flavor. Doctor Dabber is made from the finest material so it will only take few seconds to heat up your wax and concentrates.
Comes with everything you will need for your vaping experience. This includes ghost wax atomizer, battery, ghost attachment, mouthpiece, wax container, dab tool, usb charger and a manual.
Cleaning
It's also easy to clean. Simply place few drops of alcohol inside the atomizer. Leave it for overnight so the alcohol will remove all the chemicals. Just insert your favorite wax again if you want to start vaping and the alcohol fumes will instantly fade because of the heat. Take note that you should never use alcohol to clean the outside of your vaporizer as it may cause a damage.  
Dr. Dabber Ghost Overall
If you want simple yet high quality vaporizer then the Dr. Dabber Ghost would be the right choice for you. It's the perfect device for beginners but also best for advance users.  
Warranty - 1 Year (Dr. Dabber):
One year manufacturer's warranty for Doctor Dabber products including but not limited to the "Boost", "Aurora", "Ghost" and "Light" vaporizer pens. Included is a  'No Questions Asked' warranty on all batteries and chargers. For warranty claims drdabber.com has requested that you please contact them directly, you may also contact us and we can forward the issue to them.
Features:
For concentrates
Sleek design
5-click mechanism
One button activation
5 seconds heat up time
Wax container included
What's Inside the Box:
1 x Battery (510 threaded)

2 x Ghost Wax Atomizer (Wick + Titanium)
1 x Ghost Attachment
1 x Mouthpiece
1 x Shatterproof Storage Ball
1 x Dab tool
1 x USB Charger
1 x Manual
Is shipping discrete?

Yes. We ship in a plain padded padded envelope (priority flat rate) or brown box with no indication of what's inside the package. Return address would be Slick Gadgets Dist.

For this model could I also use e liquids?

Hello Amelia. The Dr. dabber ghost is for wax concentrates only.

Where would anyone order any wax that would work with this specific one?

This will depend on your location and state. Unfortunately we do not sell the wax or concentrates online.

Can this be used with dry products as well?

Unfortunately the ghost only comes with an atomizer for wax or concentrates. Although, the battery is 510 threaded and compatible with most 510 cartridges.

Can this pen be used both on wax & the cbd cartridges?

Hello Makenna. Yes, you can vape wax or attach any 510 threaded cartridges. 

In order to be able to dab, would the vaporizer and the mini ball attachment alone, allow me to effectively consume dabbing products?

Hello Katie. The mini ball glass attachment is for the dabber boost black kit. They will not work on the ghost vaporizer. But yeah, you can start dabbing with just dabber ghost alone. Hope this helps!
Customer Reviews
09/30/2020
I recommend this product
The battery is insane!! 2-3 days
Awesome product great warranty easy to use outstanding battery life
Kayla M.
United States
07/13/2020
I recommend this product
I enjoy the product
its great and it doesn't burn up the wax fast so you get the great taste of your product and enjoy it without it burning up to fast.
Anonymous
United States
03/10/2019
Positive
Good way to quit smoking keeping up having fun. Smart shipping too.
03/08/2019
Love it!
Such a discreet way of smoking. Will definitely buy again.
12/16/2018
a slick kind of vape
really easy to use and figure out(new to using pens) i saw another review mention that it doesn't really hold a lot of product inside at one time, which i thought made sense when using concentrates. also after you've used it for a while you can get multiple good hits at a time without reloading, which is all i need. if you want a good and smart/ convenient product, definitely try this pen, if you want more of a ripper or more room to put product, idk do your research i guess.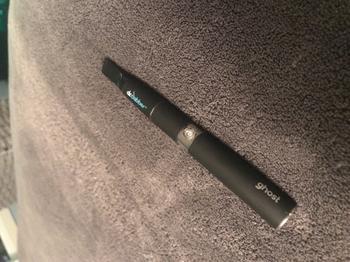 09/20/2018
The best dab pen I've tried so far.
So after dealing with the cheap ****** EVOD pens for a few months I said **** with it and bought this more costly pen. And I have not been disappointed at all. It's super discreet as described and the battery lasts forever. This pen is also SUPER at conserving wax. I go through way less wax with this pen then the EVOD pens. Highly recommend. Definitely will stick with dr. Dabber from now on.
09/11/2018
Excellent
Excellent quality
08/16/2018
Totally saved my 20 years of failing marriage, even tho I'm only in my early twenties and still single
I accidentally brought my old dabbed to the airport now I have to buy another one
01/01/2018
Best gift
This made my boyfriend so happy, he loves it
Price Match*:
Want to buy Dr. Dabber Ghost Vaporizer for sale online at the cheapest price?
Visit Slick Vapes to find the best discount and deals. We can match the sale price of any authorized dealer so you can purchase with confidence. All price matches will be subject to verification and approval. (Exceptions) Please Note: due to contracts and agreements with certain brands and merchants we may not be able to offer this.
---
Share this Product