Free Shipping*

Free Returns

Authentic
DaVinci
Davinci IQ2 Vaporizer
Dry Herb
Concentrates
10% Off! Use Coupon Code: FIRESALE
(Sale Ends Soon!)
Features
NEW Davinci IQ2!
Newly improved airflow and dual use compatibility
Elite conduction heating oven
What's Inside the Box:
1 x DaVinci IQ2 Vaporizer
1 x Concentrate Dosage Pad
1 x DaVinci Tool
1 x USB Charging Cable
1 x 10mm Bubbler Adaptor
1 x Ceramic Extract Tab
1 x Cleaning Kit
Optional Accessories
---
It's here! The DaVinci IQ2 Vaporizer is the long awaited update on the original IQ dry herb vaporizer. The new IQ2 features a better airflow and better heating conduction. It's made with materials that is built to last. IQ2 has a brushed and anodized aluminum shell making it a top of the line portable vaporizer.
The IQ2 fast heat up time is nothing compared to other vaporizer. It can reach 390F in one minute on full-charged. It comes with a removable battery so you can have a continuous session by having an extra battery charging while vaping.
Compared to its predecessor IQ, the pearl has now an oval-shaped which can extend further on the chamber for smaller loads.
his will the only vaporizer you'll ever need as this is also compatible with wax concentrates. The IQ2 comes with a concentrate accessories which will allow you to vape your favorite concentrates. 
Features:
Dual Use Vaporizer
Adjustable Airflow Via Air Dial™
On Device Dosage Calculation
9% Larger
Brushed Aluminum Shell
What's Inside the Box:
1 x DaVinci IQ2 Vaporizer
1 x Concentrate Dosage Pad
1 x DaVinci Tool
1 x USB Charging Cable
1 x Cleaning Brush
1 x 10mm Bubbler Adaptor
9 x Organic Cotton Wipes
9 x Alcohol Wipes
1 x Ceramic Extract Tab
Note: Apple has removed all vaporizer-related apps from its App Store, including DaVinci App. The DaVinci application still remains available on Google Play for Android devices.
Is battery included?

Yes, it comes with a 18650 removable battery.
Customer Reviews
11/07/2021
I recommend this product
Why did I wait?!
This is a fantastic vape. Small learning curve but well worth it. Buy an extra battery is you smoke a lot. Don't get me wrong they last a decent amount of time but if you forgot to charge it and your ready to start ripping then you are gonna have to pause 20-30 minutes while it charges. I put a whip on the adapter and have never looked back at the mouth piece!
Auggie A.

United States
08/31/2021
I recommend this product
It works wonderful ..best iv ever had
I started using this and loved it ..I would recommend to anyone that wants a great vape experience ..
Michael R.

United States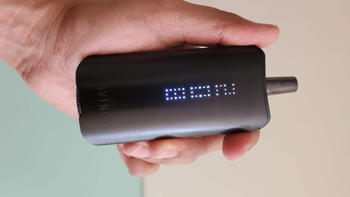 05/18/2021
I recommend this product
Compact, Intricate, Discreet, Alluring, Premium & Performing...
I'm liking this vape alot. It's compact - small, intricate - it has so many different feature aspects - there's a flavour chamber - pressure pearl, adaptor swap, loading pods, pick tool storage, multi-use storage etc, discreet - it's small and could be hidden inside your hand, alluring - the looks is amazing and the 51-led grid is descent to look at, and conveys alot of specific info like the current temperature, desired temp, battery life, mode etc... premium - the texture and brush alluminum and choices all over the body is high-end, performing - it does a good job at heating the herb, although it may not be strong enough for the experts, as it maxes out at 221c on the oven. it has alot of new upgrades to it right now, such as the glass mouthpiece and stainless steel dosage pods. there is a app for it too, which you definately don't need. bluetooth connectivity. 18650 standard battery is a big plus too. relatively easy to clean. the packaging is quite premium and it's layout is very nice and compact. alot of thought has went into this product at many levels, so kudos to the davinci vapourizer team. you could tell these guys are smoking some of the best **** there is. as far as portable vapes go, this is clearly one of the best all rounders. it may not be able to compete with the absolute flavour from a firefly2+ which i also own, but it's good enough and better than that vape in much more other ways!
ADRIAN M.

United States
03/06/2021
I recommend this product
a small spoon should be added to insert the flower
I like your products, but need better directions on how to use , photos on startup
marlo v.

United States
Price Match*:
Want to buy Davinci IQ2 Vaporizer for sale online at the cheapest price?
Visit Slick Vapes to find the best discount and deals. We can match the sale price of any authorized dealer so you can purchase with confidence. All price matches will be subject to verification and approval. (Exceptions) Please Note: due to contracts and agreements with certain brands and merchants we may not be able to offer this.
---
Share this Product