Free Shipping*

Free Returns

Authentic
Grenco Science
G Pen Connect Vaporizer
Concentrates
Use Coupon Code: GPENDEALS for 10% Off!
(Sale Ends Soon!)
Features
Ceramic heating element with patented reverse airflow technology
Magnetic tank cap
Spring-loaded carb release
850mAh battery with 3 variable voltage settings
What's Inside the Box:
1 x G Pen Connect Battery
1 x G Pen Connect Tank
1 x G Pen Connect Housing
1 x G Pen Connect Male Glass Adapter(14MM)
1 x G Pen Connect Male Glass Adapter Connector
1 x Micro USB Charger
3 x Replacement O-rings
---
Turn your favorite water piece glass into a powerful e-rig using the G pen connect vaporizer / attachment. It features a ceramic heating element to produce flavorful and smooth vapor. Boasting 850mAh battery and equipped with 3 temperature settings. 
Heat Settings Led:
Blue: 3.1 volts
Green: 3.6 volts
Red: 4.1 volts
What's Inside the Box:
1x G Pen Connect Battery
1x Tank
1x Housing
1x Male Glass Adapter (14mm)
1x Glass Adapter Connector
1x Micro-USB Charging Cable
QUESTIONS & ANSWERS
Have a Question?
Be the first to ask a question about this.
Ask a Question
Customer Reviews
07/15/2021
I recommend this product
Won't Use Another Device
Absolutely LOVE this thing. Will never go back to a traditional rig again!
Kathryn O.

United States
09/01/2020
I recommend this product
Best I've tried
Really big hits I really recommend it and it comes in handy when you need it
Edgar C.

United States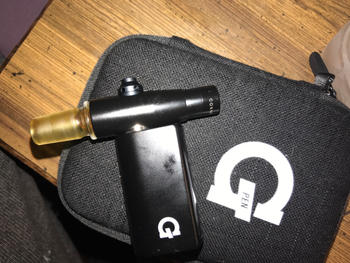 06/01/2020
I recommend this product
Great overall experience
After having an unfortunate turn of events with a different site I came here in hopes to have a better out come. I was more than impressed with not only the shipping times, but with the customer service. I had quit a bit of questions and I was fairly answered with all my answers. Couldn't ask for anything more.
Dylan G.

United States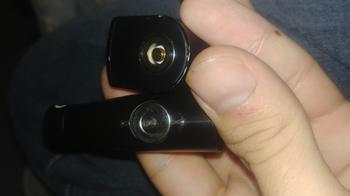 12/15/2019
Best enail on the market right now
If you don't wanna read a long review. Short answer is you should definitely get this product if your into consentrates. It's an awesome device. It's a portable enail you can use on any price that has a 14mm female adapter, and you can get the closets for 10 and 18 too. It does exactly what they say it does and it's great at it. I only use mi me on medium and it rips like a perfect temp quartz nail. Not messy, super easy to clean, and will take any kind of consentrates. I will say that I had some minor issues at first with the battery. But their customer service was excellent. I called in one time and told them that the battery was misfiring and they sent me a new one the same day, and this was the same day I received it in the mail might I add. And I got it within three days. And they even let me keep the old one so I can use it till it stops working and have a back up. And their warranty covers all the parts for a year anyway. Grenco Science has outstanding customer service. My puffco plus v2 on the other hand. Terrible product. Didn't even last a month. The battery stopped working after two weeks, they sent a new one cause warranty covered one replacement of the battery. Then the dart broke for no reason, then a week later the atomizer just stopped working and of course, wasn't even covered. I know gpen had it's issues in the past. But they definitely fixed them with this product. And no. This isn't a sponsored post. I paid for my own and I actually love this product. As soon as I saw this product come out and what it could do, I wanted it. And I got it now, and I don't regret it. If you are really into concentrates this is definitely a must have. If you think 159$ is too much for it your really not planning on spending that much anyway, cause anyone into concentrates and email products knows that's a great price for a product like this, especially since every other product on the market similar (and I say similar cause there's nothing else like it right now, closest match is an attachment to connect an actualdab pen to a peice, which isn't the same) are products like the puffco peak and whatever the kandypen competitor version of it is, and they sell for like 400$. Big difference. So yeah. Its basically makes it possible to dab anywhere, cause of course you don't need a torch, just to keep it charged. I hope they come out with more products like this but with more upgrades and features. I think the only real con I've found with this product so far is that at least on mine (maybe they made it a little off measurement) the battery has been slowly rubbing off the paint from the main assembly as it spins, cause it magnetizes (another cool feature that makes it easier to take places) and so when it spins it takes off the paint some. But that's just a minor cosmetic issue. Not anything serious. Although I did email them about it and am currently awaiting their response. I'll probably update this post when they do. But yeah. 5 star product. It might have been four start given the battery issue, but gpens customer service made that irrelevant too. Thanks gpen, and thanks SlickVapes for the better price on it for Cyber Monday.
Joseph P.

United States
Price Match*:
Want to buy G Pen Connect Vaporizer for sale online at the cheapest price?
Visit Slick Vapes to find the best discount and deals. We can match the sale price of any authorized dealer so you can purchase with confidence. All price matches will be subject to verification and approval. (Exceptions) Please Note: due to contracts and agreements with certain brands and merchants we may not be able to offer this.
---
Share this Product