1
Free Shipping*

Free Returns

Authentic
Grenco Science
G Pen Elite Vaporizer
Dry Herb
Use Coupon Code: GPENDEALS for 10% Off!
(Sale Ends Soon!)
Features
Large Chamber Capacity
Quick Heating Time - 30 secs
What's Inside the Box:
1 x G Pen Elite
1 x G Pen Tool
1 x USB Charging Cable
1 x G Cleaning Brush
Optional Accessories:
---
Grenco Science does it again with their latest product G Pen Elite portable vaporizer for dry herbs. The GPen Elite is the most ergonomic portable vaporizer on the market. This is the new favorite of the dry herb fans that's looking for a vaporizer that is both powerful and smart. It's very convenient, pocket friendly and easy to use. Its features include full LED display, temperature control settings, battery level indicator and a chamber with a huge capacity to have a longer and smooth vaping experience.
G Pen Elite Performance
Packed with a lithium-ion battery and smart-chip technology making the G Pen Elite the most advance vaporizer. The G Pen Elite is a combination of power and performance. You can't find any other portable vaporizer that can match G Pen Elite.
Precise Temperature Control
Back then, you have to deal with smokes coming from the burned herbs inside the chamber. Standard heat settings is the main problem of some vapers since they cannot adjust the temperature. With the precise temperature settings of G Pen Elite, users will be able to set the heat from 200° - 428°F. It also has a + and - button so you can easily adjust the settings. This will allow the vaper to find the best suiting temperature for their vaping. In short, you are now in control of your everything.
Ceramic Chamber
Unlike with the G Pro, the GPen Elite can hold up dry materials up to .75 grams. That's about double the size of any portable vaporizer.  This will allow you to have a longer session of vaping with less hassle on reloading. G Pen Elite has a feature of high quality 360° ceramic. This will prevent your herbs from combusting. It will only produce quality vapor and prevent from making harmful smoke.
Features:
Huge 0.75 gram capacity
Fast heating technology
Ceramic chamber
Sleek Ergonomic Design
Led display
Battery level display 
What's Inside the Box:
1 x G Pen Elite

1 x G Pen Tool


1 x USB Charging Cable

1 x G Cleaning Brush
Instructions:
Please note: The g-card is no longer included with the Elite kits.
What is the G pen water peace adapter

This peace allows you to use the G Pen Elite with water pipes. With the attachment you turn the G Pen Elite upside down into the water pipe or bong glass adapter instead of using a glass bowl. Turn on the Vaporizer and you can use the bong without fire. Thanks for the question.
Customer Reviews
09/02/2020
I recommend this product
Buy it.
Cons: - Must purchase the sleeve (gets uncomfortably hot after 5 minutes; starting from where you place your lips to midway down) - It requires routine cleaning of mouth piece (4 full bowls generated enough resin to seep out the mouth piece opening) - "New" taste was horrible. I dry ran in at highest temp for 3 sessions before using. Took about 20 sessions for the "unnatural" taste to fade away. Tips: - Buy bowl screens. Cut 2 into the ovally shape.. use one at bottom of bowl and one on top of the packed bowl. This will make your mouthpiece cleaning a "resin only" job.
Anonymous
United States
07/17/2020
I recommend this product
Great
Thank you works great
Trey P.
United States
07/12/2020
I recommend this product
Works great
My first flower vape, I love it
Anonymous
United States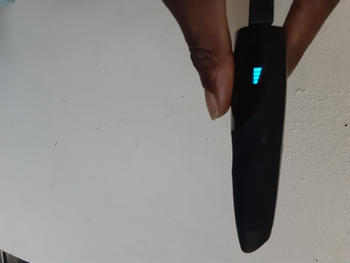 06/04/2020
I recommend this product
I don't know I haven't received it yet am still waiting ??
We're is my order you mf sending me review's for a order you guys never gave me that I paid full price for. What's up with that??? Slick vapes is a No!!! Never again
Christopher L.
United States
We are terribly sorry for the delay. However, USPS contacted us and informed us that the package is not lost but is just traveling slow due to a shortage of personnel delivering/driving their trucks. But this is taking too long and having to deal with this as well is not acceptable. An apology is no substitute for good service but I want to offer one for all the inconvenience this has caused. We already sent you a new one. Kindly check your email for the tracking information.
04/23/2020
Good product
Good product, sleek design, easy to use. Battery life could be better. Also the cleaning tools it comes with are handy
Anonymous
United States
04/16/2020
It worked very well for me
I don't have much experience about these products as I am using for medical purposes. However the G pen Elite worked very well for me, just like as advertised
Anonymous
United States
12/30/2019
The vape works great , I would recommend
The pen works like advertized. Would recommend to a friend.
Kim K.
United States
11/30/2019
Still waiting for purchase
Have not received purchase yet!
John B.
United States
11/08/2019
I love it
Great in all sense
Alejandro R.
United States
Price Match*:
Want to buy G Pen Elite Vaporizer for sale online at the cheapest price?
Visit Slick Vapes to find the best discount and deals. We can match the sale price of any authorized dealer so you can purchase with confidence. All price matches will be subject to verification and approval. (Exceptions) Please Note: due to contracts and agreements with certain brands and merchants we may not be able to offer this.
---
Share this Product