Free Shipping*

Free Returns

Authentic
Yocan
Yocan Regen Vaporizer
Concentrates
10% Off Sale NOW! Use Coupon Code YOCANDEALS
(Sale Ends Soon!)
Features
The Newest Addition to the Yocan Dab Pen Lineup
Dual Quartz & Triple Concentrate Atomizers
With Built-in Concentrate Container and Lanyard
Easily Adjust Voltage w/3 LED Readout
Compatible with Yocan Evolve Plus Coils & Caps
Compatible Accessories
---
The Yocan Regen Advanced Concentrate Vaporizer features a single button that controls power and voltage selection. It's an easy to use wax pen that fits both advanced users and beginners. It comes with a built in storage for your wax located at the bottom of the pen. The Yocan Regen is a solid portable vaporizer and makes great flavor.
The Yocan Regen was engineered to turn your favorite wax materials into a smooth quality vapor. With its triple quartz coil, the Yocan Regen heats up very quickly and create intense vapor.
Features:
Variable Voltage Battery
Quartz Dual Coil
Quartz Tri Coil
1100mAh Battery Capacity
15-Second Shut-Off
Magnetic Connection
2ml Silicone Jar
What's Inside the Box:
1 x Yocan Regen Advanced Concentrate Vaporizer
1 x Quartz Dual Coil
1 x Quartz Tri Coil
1 x Loading Tool
1 x Hanging Ring
1 x Charging Cable
1 x User Manual
Optional Compatible Accessories:
Yocan Regen Vaporizer Manual
Powering the Yocan Regen Vaporizer Vaporizer
Make sure to fully charge your Yocan Regen Vaporizer Vaporizer before use for best results.
After the battery is charged, power the Yocan Regen Vaporizer on by pressing on the power button 5 times rapidly. Note: The power button is located at the middle part of the battery with hexagonal shape.
How to Load the Yocan Regen Vaporizer
Prepare your wax concentrates and loading tool to use to scoop concentrates onto the coil. You can use the hidden storage container under the battery for loading wax on-the-go.
Remove the mouthpiece from the battery by simply pulling it out and removing it from its magnetic connection.
Gently twist the coils cap to unscrew it from the coil.
Load your wax concentrates to the coil using a loading tool. Avoid touching the coil with another metal (loading tool) to prevent damaging the coils.
Replace the coil cap.
Place the mouthpiece onto the battery until it snaps back.
How to Vape the Yocan Regen Vaporizer
Make sure the Yocan Regen Vaporizer is fully charged and loaded with wax concentrates before you start vaping.
Press and hold the power button while placing your lips onto the mouthpiece and prepare to draw. When the Yocan Regen Vaporizer starts producing vapor, inhale and pull from the mouthpiece.
Repeat this process until all concentrates are fully consumed.
Let the Yocan Regen Vaporizer rest to cool down every after session.
Cleaning and Maintaining your Yocan Regen Vaporizer
The Yocan Regen Vaporizer is made with magnetic parts making it easy to take the parts off and maintain. Follow the steps below to keep your Yocan Regen Vaporizer in good condition:
Turn off the Yocan Regen Vaporizer by clicking the power button 5 times rapidly.
Dissasemmble every parts and use a dry paper towel to wipe off any residue on the vaporizer.
Always use the dedicated charger and follow the instructions to avoid damaging your Yocan Regen Vaporizer.
Does the dual quartz coils fit the regen as they dont have coils for it other then the triple, yea i can use them but i sant a smooth hit and the dual are better for that and flavor!!

You can use the Evolve Plus Dual Quartz Coils for the Regen. Or any other Plus coils. (The D-Plus coils will require another 510 adapter ring)
Customer Reviews
10/16/2021
I recommend this product
Came in a timely manner
Good quality, nice packaging, arrived quickly
Anonymous

United States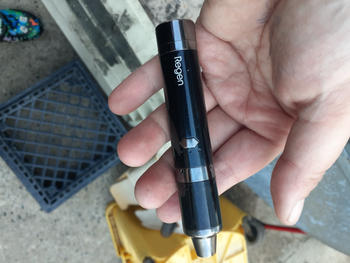 09/08/2021
I recommend this product
I absolutely love it
After going back and forth because this one and a different yocan model I went for this one.. it is smooth clean and does the job... I wish the mouth piece was a bit more secure as only the magnet doesnt do much when it's in your pocket.. other wise then that I am absolutely in love with my Regen!!
Chloe W.

United States
08/23/2021
I recommend this product
Excellent Choice
The Yocan Regen provides a great, no mess, easy-to-learn experience that I use specifically for the "shatter" product. I wouldn't recommend it for "wax" or other concentrates. The product uses a three-heat system that allows the user to experiment. I've found the 1 setting to be the ideal, but others may want that 2 or 3 setting. Thanks to Slick Vapes! Some super Customer Service!
James C.

United States
06/23/2021
I recommend this product
My favorite!
I have tried several yocan pens and Regan is by far my favorite. Smooth hits, decent battery life, I love the magnetic mouth piece...
Anonymous

United States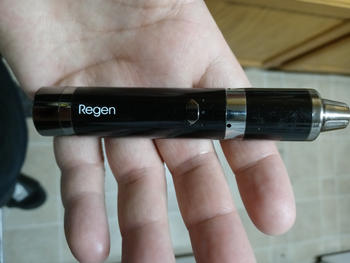 05/08/2021
I recommend this product
Best I've tried!
The yocan regan vaporizer is a great pen i use it daily has a nice storage compartment at the bottom also
Robert R.

United States
04/15/2021
I recommend this product
Great Vape Pen
I have two of the Regen vape pens now, they hold a good charge, smooth hit, love that its magnetic because its easy to take apart and helps me keep the spoon in tact! If your going to buy extra coils I highly recommend buying specificly Regen coils! Other coils do not work on this product!!!
Crystal L.

United States
04/10/2021
I recommend this product
Great
Better than evolve plus
Anonymous

United States
03/30/2021
I recommend this product
Great vape
Great hits, adjustable temp, decent price. What more could you ask for?
Anonymous

United States
03/27/2021
I recommend this product
Impressive
Downgraded from evolve Xl 4 coil to this impressive sleek machine. Improvements include removal of air intake adjustments. Better lite to show charging. Haven't burned it out yet
Charles T.

United States
Price Match*:
Want to buy Yocan Regen Vaporizer for sale online at the cheapest price?
Visit Slick Vapes to find the best discount and deals. We can match the sale price of any authorized dealer so you can purchase with confidence. All price matches will be subject to verification and approval. (Exceptions) Please Note: due to contracts and agreements with certain brands and merchants we may not be able to offer this.
---
Share this Product