∞
Free Shipping

Free Returns

Authentic
Arizer
Arizer Solo 2 Vaporizer
Dry Herb
Bonus Accessories
Free Grinder
$0.00
Free Grinder
Use Coupon Code: ARIZER10 for $10 Off!
(Sale Ends Soon!)
---
Powerful!
Looking to vape your loose leaf (dry herb) and produce vapor clouds with no learning curve? Well the Arizer Solo 2 is a BEAST. We're not joking. Compared to other popular semi-portable vaporizers, this device maintains a great temperature and even smiles at you when you turn it on (our favorite feature). The Solo II features a quick heat up time and big bright display, along with a grip that does never gets too hot to touch.
Easy Cleaning:
Easily clean the glass aroma tubes by soaking them in an alcohol solution. You can use a plastic resealable bag to soak them and rinse after a few minutes or overnight depending how much time you have. 
The Arizer Solo II is the latest portable dry herb vaporizer for sale from Arizer. Featuring a more powerful battery, better airflow, led display, customization setting to give the best vaping and thick vapor you'll ever experience. 
Lifetime Manufacturer's Warranty:
That's right, lifetime warranty on the heating element, and a limited 2-Year warranty covering defects in materials or workmanship, excluding battery. Arizer products are designed to be highly efficient and incredibly easy to use, manufactured to the highest standards with the highest quality components, and backed by a solid manufacturer's warranty & industry-leading customer service. For warranty service you may contact "service@arizer.com" or us directly so we can make sure your device is operating properly.
Features:
Latest Version 2.0
For Dry Herbs Only
Long lasting battery
Portable Vaporizer
Lifetime Warranty
Quick Heat Up Time
What's Inside the Box:
1 x Solo II Multi-Purpose Micro-Heater

1 x Solo II Charger / Power Adapter




2 x Solo II Glass Aroma Tubes (90mm & 110mm)

1 x Solo II Glass Aroma Dish
1 x Solo II Belt-Clip Carry Case
2 x Solo II Silicone Stem Caps

4 x Solo II Stainless Steel Filter Screens




1 x Stainless Steel Stirring Tool




1 x Sample Aromatic Botanicals




1 x Owner's Manual
Looking for a deal? Check our updated Arizer Coupon Codes to check for current discounts!
FIRESALE does not work for $ 30 off Arizer Solo 2 Vaporize

Hello Mike. The FIRESALE coupon has ended. However, the Arizer solo 2 is currently on sale plus you can apply the coupon code FACETHEBOOK upon checkout to get additional discount. Just make sure to like our facebook page for it to work. 

For more questions, please email us at contact@slickvapes.com

I cant check out

Hello. Please contact us at contact@slickvapes.com

I'm confused by what's in the box. Does it come with a battery, screens and two rubber caps. It didn't even list the solo 2 unit I presume thats in the box.

Hi, Yes. It comes with a pre-installed battery in the Solo 2 device, screens, and silicon caps for the two storage containers for each of the tubes. It is the full OEM kit. Thanks for letting us know, we've updated our page.

The pics of the Solo 2 are a bit confusing on your site...does the black unit come with black draw tubes or clear? I like the black tubes and this may seal the deal. Thanks in advance!

Apologies for any confusion. The image shown towards the bottom of this page has a dark background which make them appear as black draw tubes. However, the "draw tubes" or "Aroma Stems" are actually clear. Sorry, black stems stems are not available for this item.
Customer Reviews
01/14/2020
Reliance of past reviews
Past reviews did not mention the curved pipe or the bong attachment which would be nice to procure or be provided as an ordering option. This is the first vapor and am quite pleased with battery life and ease of use; would hardily recommend for these reasons.
Steven P.
United States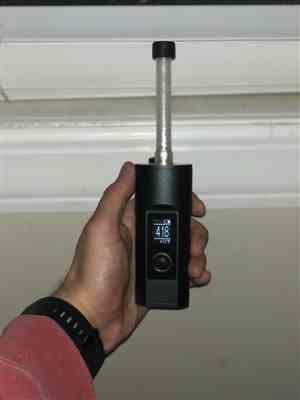 12/22/2019
Arizer was the best dry herb vape I've ever had!
It was such a great purchase and hits amazingly for a dry herb vape. I couldn't decide between this or the mighty. Ultimately I went with this because of portability and ease of cleaning it.
Michael C.
United States
12/08/2019
Awesome
Just your average pothead here and u gotta say I'm beyond ecstatic about my purchase. Thanks guys.
david m.
United States
07/10/2019
This works!
So much better than the pen type I was using. Built like a tank. Heats very quickly and the battery lasts a long time. Easy to clean too. Well worth the price.
Gerry L.
United States
07/09/2019
Great product and customer service
Ordered on Thursday delivered on Monday. Great vape . Fast, delivery. Love it. Thank you
Francisco A.
United States
06/22/2019
Huge Vapor Hits, Great Session Vape!!
Been using this one for a few weeks now and I can say overall WOW! First few hits are full with flavor then you crank it up and can puff on it for a full 10 minutes on one pack. The dry herb burns evenly because it sits on the heating element. The draw resistance is very low due to the air hole where the herb sits. I turn it on let it heat to 400°F and slide my chosen glass stem/straw inside. If you let it sit for another minute after loading your first hit will be visible through the glass. I bought the glass pipe adaptor from this site and a bubble straw from another one. Get more accessories is my only advice cause your prices and shipping times are great! I'll definitely get good use out of this vape for a very long time.
06/15/2019
Fantastic.
Fast. Easy. Great product.
David J.
United States
06/14/2019
Very Impressed
This is my third vaporizer and although I'm not expert, I am so impressed with the quality and features on the Arizer Solo 2. I do own an Arizer Air but heard from others about the awesome features of the Solo 2 so I bought one. It heats up fast, can recall the last temp that you used, shows the battery life ( a plus!) gives a great quality vapor cloud and is easy to clean. I would definitely purchased another if needed. It's not super light weight but does feel good in your hand. It typically holds a charge for 3 hours, depending on temp settings used, and can be used while charging. It's just a great device for the price.
Anonymous
United States
06/14/2019
Solid Vaporizer
My budget was around $200 and I read plenty of reviews that the Solo 2 was one of the best you can buy and I have to agree. I've not had much experience with other vaporizers yet, but the Solo 2 is worth the buy.
Anonymous
United States
We agree, this vape is bulletproof and lasts! (probably not literally)
Price Match Guarantee*:
Want to buy Arizer Solo 2 Vaporizer for sale online at the cheapest price?
Visit Slick Vapes to find the best discount and deals. We can match the sale price of any authorized dealer so you can purchase with confidence.
---
Share this Product