Free Shipping*

Free Returns

Authentic
Pulsar
Pulsar APX Smoker Kit
Dry Herb
Features
Replaceable quartz-lined atomizer
Self-cleaning ceramic power pad heating element
7-second heat time (950 - 1094 degrees F)
Optional Accessories
---
The Pulsar APX Smoker Kit is a portable electronic pipe that's designed to offer robust hits of smoke for your dry herbs. This uses conduction heat through a ceramic disc contacting your herbs.  
The Pulsar APX Smoker Kit is lightweight and can fit your pocket. Its so small you can hide it in your hand. It also features quick heat up time, quartz chamber, ceramic power pad and compact design which makes the Pulsar APX Smoker ideal for any dry herb smokers. 
Innovative Design
The APX Smoker Kit features a 1100mAh battery for longer smoke session. It has a single-button control interface for easy use. To power up the device, simply click 5 times, hold down to heat up and start smoking in seconds. Because of the fast heating portable electronic pipes installed to it, It'll only take 7 seconds for it to heat up.
Features:
For Dry Herb
7 Secs Heat Up Time
Portable Electronic Pipe
Compact and Discreet
What's Inside the Box:
1 x Glass Mouthpiece
1 x 1100mAh Battery
1 x Micro-USB Charger Cable
1 x Loading Tool
1 x Cleaning Brush
I need glass and a metal mouthpiece for my apx smoker

Hello Jay. You may view Pulsar accessories here https://slickvapes.com/collections/pulsar

Can u put concentrates in there

Hello, The APX Smoker is designed for dry herb only, you'll want the apx wax for concentrates.
Customer Reviews
04/20/2021
I recommend this product
The best
By far the best vape I've ever used
Anonymous

United States
01/20/2021
I recommend this product
Delivers
This is the 3rd Pulsar I have purchased and I have been very impressed by them all. But this one packs a wallop! My only problem is that I am a "butterfingers" and dropped the glass mouthpiece on the 2nd day I had it, shattering it over the bathroom floor. Luckily, I had a back up. I am hoping that Pulsar will come out with a shatterproof mouthpiece soon for us klutzes!
Margarett M.

United States
05/15/2020
I recommend this product
Worst vape ever
It burns the herb! I have couple vapes and nothing that terrible, it went strait to the garbage
Thais C.

United States
05/04/2020
The best cannot be improved
Great product. Bought the newer APX2 and it doesn't compare. Good old combustion is hard to beat.
Anonymous

United States
05/02/2020
Still have not recieved my
Still have not recieved my item
Anonymous

United States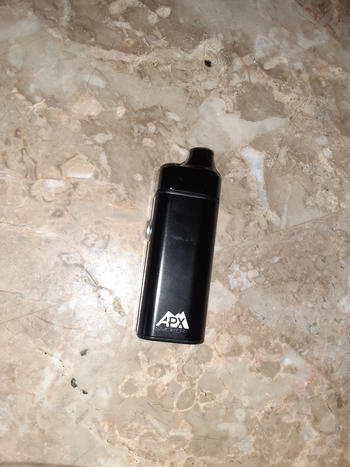 04/29/2020
Fast and Strong
Love the product, however loading chamber is rather small and must reload every 2-4 hits, but it rips. Hits HARD
edgar m.

United States
12/04/2019
Great design hopefully it lasts this time
This is my third time buying this device. They have a short longevity. Must clean after each and every use. Definitely better than rolling.
Anonymous

United States
09/06/2019
Awesome way to smoke some herbs
I've used APX products before and I absolutely love my APX Smoker, it takes less herb than my previous dry herb vape and it still uses less than a bong or pipe would use (half as much as my regular pipe), this really helps when it comes to making my supply last longer. I've been using this for about two weeks now and so far everything is great, I bought a metal mouthpiece to make my APX smoker more durable (plus it looks cooler). The battery life is great, it takes about an hour and a half to three hours to fully charge and on a full charge I get probably at least eight to ten smoke sessions out of it. Cleaning this thing is a breeze unlike my last APX vape, you can remove the chamber that holds the herb and soak it in alcohol and scrub it a little (thats all it takes!) and its clean, I'll throw the metal mouthpiece in a bowl of alcohol at the same time too and cleanup only takes a few minutes.
02/12/2019
Broke almost immediately, warranty sucks!
We purchased one and were happy, so bought another, second one broke within days, contacted customer service since warranty still very much in effect and automated reply placed blame with me, claimed warranty waa only ten days from date of order plaçed and suggested I buy expensive replacement part. Decent product designed to fail so you have to replace expensive parts, what a rip off!
Price Match*:
Want to buy Pulsar APX Smoker Kit for sale online at the cheapest price?
Visit Slick Vapes to find the best discount and deals. We can match the sale price of any authorized dealer so you can purchase with confidence. All price matches will be subject to verification and approval. (Exceptions) Please Note: due to contracts and agreements with certain brands and merchants we may not be able to offer this.
---
Share this Product