Free Shipping*

Free Returns

Authentic
Yocan
Yocan Vane Dry Herb Vaporizer
Dry Herb
10% Off Sale NOW! Use Coupon Code YOCANDEALS
(Sale Ends Soon!)
---
A new addition to Yocan's dry herb vapes line up. The Yocan Vane uses a hybrid of convection conduction but from our tests it's mainly a convection vape. Featuring 1100mAh battery enough to keep you puffing clouds the whole day.
Precise temperature controls from 200F - 480F degrees, or 93C to 250C degrees Celsius. You can select any temperature within 1 degree increments - Not many budget vaporizers have this kind of functionality.
Keep in mind this device is small and portable! This device stands 3.1" tall (with mouthpiece) and only 1.1" wide making it super small and discreet perfect for on the go use.
Features:
1100mAh Battery Capacity
Magnetic Mouthpiece
Ceramic Heating Chamber
Smart Vibration Notification
30-Second Heat-Up Time
Automatic Shut-Off
Digital OLED Display
USB-C Charging
Convection Heating
Precision Temperature Control
Instructions (Download):
What's Inside the Box:
1 x Yocan Vane Vaporizer
1 x Cleaning Brush
1 x Type-C Charging Cable
1 x User Manual
Optional Accessories:
Yocan Vane Manual
Powering the Yocan Vane Vaporizer
Fully charge the Yocan Vane Vaporizer before use.
After fully charging your Yocan Vane, click the power button 5 times to turn on the vaporizer. The button is located at the upper part of the OLED screen facing outwards.
How to Load the Yocan Vane Vaporizer
Prepare your desirned materials. Use a herb grinder to grind them into finer pieces for best results.
Lift up the magnetic mouthpiece away from the battery to reveal the ceramic chamber.
Carefully load the grind herbs into the ceramic chamber.
Place back the mouthpiece on the battery.
How to Vape the Yocan Vane Vaporizer
After the vaporizer is fully charged and loaded, press your lips near the mouthpiece of the Yocan Vane and prepare to inhale.
Press and hold the power button of the Yocan Vane and once the Yocan Vane creates vapors pull and draw from the mouthpiece.
Repeat this process after the herbs are fully vaporized or you may stop after a full cycle.
Cleaning and Maintaining your Yocan Vane Vaporizer
The Yocan Vane Vaporizer is easy to clean and maintain. Assembling and disassembling the parts of the vaporizer is also easy. To do this follow the steps below;
Disassemble your vaporizer and use a dry paper towel to wipe-off any dirt and residue on the battery.
Follow charging instructions and use the dedicated charger to avoid damaging your Yocan Vane.
How large is chamber? Is there a vape pen one can use with both dry chamber and flavored.

Hello Nancy,

The chamber holds about 0.3grams. If you are familiar with pax 2/3 the bowl sizes are similar.
For vape pens that do both dry and flavored (If you're talking about flavored e-juice), there are some devices that require swapping the atomizers however, for best results we recommend using different devices. Hope that makes sense :)

What is the temperature range?

The Yocan Vane has temperature control from 200F to 480F degrees Fahrenheit (93C to 250C degrees Celsius). The temperature is adjustable by 1 degree increments.

When choosing what temperature to use it depends greatly on the user preference, here we like to start at around 390-400*F and push it higher (420+) towards the end of the session for a final burn.

how big is the herb chamber? in relation to the PAX and One vapes?

The herb chamber in the Vane is about the same size as the Pax 2 or Pax 3 devices. It may be a bit smaller because of it's oval shape but not by much. However, I'm not sure about the "One vapes"
Customer Reviews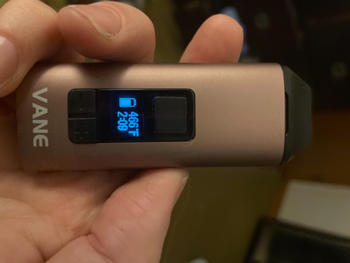 01/23/2021
I recommend this product
Awesome
This is the best dry herb vape I have tried! Room for more flower and you can set the temp to what you want!
Danielle L.

United States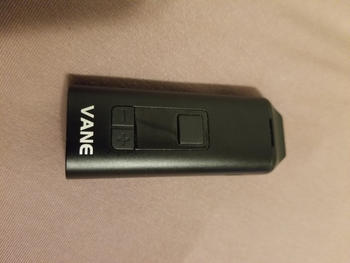 01/13/2021
I recommend this product
Worth it
Amazing lil powerful thing. Definitely a great starter for vaping. But I'll be upgrading to something with a better & longer battery soon
Jay J.

United States
01/13/2021
I recommend this product
Better than the last pen I bought
Way better than the last flower vape I got. I definitely would recommend it, great find for the price!
James B.

United States
01/09/2021
I recommend this product
Does a nice job
If new to Vaping can take a little bit to master. I was able to get it to my liking within a week. Perfect for using on the go.
Anonymous

United States
01/07/2021
I recommend this product
Love it
10/10 would recommend.
Jenny C.

United States
01/03/2021
I recommend this product
Exactly what I expected
I like to take small hits at 360°, then at 400°, and finish it off at ~450°. I don't let it heat for three minutes, to save the battery I turn it off after one or two hits, when I'm nearly coughing anyway. This works great if you like small doses, like me. For a bigger knock-out hit, use a pipe!
Thomas J.

United States
12/31/2020
I recommend this product
Discrete and easy to use
Discrete and easy to use
ALAN B.

United States
12/31/2020
I recommend this product
It works well but very low battery life!
I really like but you have to be near a plug in because even one person will run it out on 2 short sessions. Also be sure to watch a video on use so your not shutting off.
Anonymous

United States
12/27/2020
I recommend this product
Perfect size
Can't think of a better device.
Anonymous

United States
Price Match*:
Want to buy Yocan Vane Dry Herb Vaporizer for sale online at the cheapest price?
Visit Slick Vapes to find the best discount and deals. We can match the sale price of any authorized dealer so you can purchase with confidence. All price matches will be subject to verification and approval. (Exceptions) Please Note: due to contracts and agreements with certain brands and merchants we may not be able to offer this.
---
Share this Product