5
Free Shipping*

Free Returns

Authentic
EVOD
EVOD Twist VV Battery 1300mAh
Concentrates
Buy Any TWO EVOD Batteries and get a FREE Travel Case + 510 USB Charger
(No Limit)
Features
Add on: 510 USB Charger (Not included)
Choose the battery size that fits your needs:
Long Lasting Battery Perfect for Cartridges
Easy To use and Durable
Simply Twist to Adjust Voltage
Our Most Popular & Long Running Battery
---
The Classic EVOD Twist Variable Voltage battery, 510 and eGo Compatible.
While there are tons of variable voltage vape pen batteries out there, not many come close to the superior power and simplicity of the EVOD Twist series. The voltage adjustment uses a simple to read twist voltage regulator. No button mashing required to change voltages, and easily fine tune and adjust the power on the fly. 
Great for beginners, powerful enough for advance users!
Note: 510 USB Charger or 510 USB Charger w/ Cord Sold Separately
Color may vary slightly from what is shown in the photo.
Allow this to charge overnight, don't worry it's worth it, as this battery lasts super long.
Features:
Easily Adjust Voltage by Twisting the bottom (Voltage Range: 3.2V-4.2V)
Consistent Hits 
1300mAh (Last much longer than other batteries)
510 Threaded
Lightweight
5-Click On/Off
Size Chart: (approx.)
EVOD 1600mah - 4.875" L x 0.625" Diameter
EVOD 1300mah - 4.5" L  x 0.625" Diameter
EVOD 1100mah

 - 4.875" L x 0.5625" Diameter

EVOD 900mah - 4.5" L

 x 0.5625" Diameter
What's Inside the Box:
1 x EVOD Twist Variable Voltage Battery
Instruction
Charge the battery (we recommend overnight, larger mah batteries will require several hours for full charge)
5x Button press - Toggles the battery on/off (it will blink 3 times)
HOLD Button - (While device is on - Solid Light will come on) Battery will activate.
Battery will automatically cut out after holding for 10 seconds, this will be indicated by 3 blinks.
Twisting the bottom will adjust voltage.
Note: the battery will time out after holding for 10 seconds for safety. 
If the light is blinking and the cartridge is securely installed, this means there is a connection issue, likely a short or a bad atomizer.
Usage: Tips
Atomizer Protection: 10-second Safety Cut-Off Feature prevents atomizers from overheating and shorting.
Charging time: approx ~ 6 to 10 hours
Warning: Do not over tighten the charger or atomizer to battery. this could cause damage to the battery pin.
Do you sell the coils for the evod twist. I just ordered one.

Unfortunately we do not sell coils for this, however you can use the yocan evolve mouthpiece (compatible).

Can an atomizer for the puffco vision plus fit on the battery. They are both 510 thread.

The vision plus chamber has a metal sleeve that prevents it from making full contact. We tested to see if this work and you'll need a different battery like the puffco plus battery.

Does the mouthpiece burn your lips? I fricken hate that 😔

Hi Stacy, The Evod battery is just an ala carte battery and does not have a mouthpiece. You will need to supply a 510 cartridge or prefilled cartridge to use this.

What's the best tank for this battery mod?

This works well with smaller 510 cartridges, pre-filled or fill it yourself.

I know that you also sell replacement batteries for Yocan Evolve vapes. This battery appears to have the same thread and larger capacity. Will this battery fit my Yocan Evolve? Also if so, can I use my current charger for the Evolve battery for this battery?

Yes, the mouthpiece of the Yocan Evolve will fit the EVOD batteries, and the same USB/510 charger will also work. :)

Is there a return policy.I bought the wrong thing

Yes of course, please drop us a line at contact@slickvapes.com to initiate any returns and we will take care of you.

Does this come with a charger even if i dont get the 510 one? And is this cbd or Thx. My first time

Hello, this is a standalone battery and does not come with a 510 charger. You can use this for 510 cartridges. Feel free to reach out about if your cart is compatible - you can send us a photo and we can help :)

Hi I'm new to this but how do you know when the pen is fully charged? I charged mine for 6 hours yesterday and the button was still red.

Hi Karen,

This greatly depends on your USB adapter and the 510 charger itself. Because of the size of the battery and slow charge (this is better for longevity and safety) it can sometimes take over 6 hours to charge fully. But should last you days before another recharge.

Hello, I'm looking for an auto draw 510 thread adjustable voltage battery… Any suggestions? I prefer a pen style however I can be entertained by anything you have with auto draw

Hi Richard, for variable voltage auto draw vape pen style we have a few popular recommendations:

https://slickvapes.com/products/o-penvape-2-0-variable-voltage-battery

https://slickvapes.com/products/exxus-tap-vv-auto-draw-cartridge-vaporizer
Hope that helps :)

I use extracts oil can that type be used on this pen

Hi Jessica, this will be able to heat up 510 threaded cartridges and tanks. It is solely a battery so it will require the use of a cartridge or tank with atomizer and these are commonly sold with prefilled extract oils. You can email us a photo if you need any further assistance, we're here to help! :)

One question after I charged it can I stick my oil cartridge straight in and just start smoking I don't need a atomizer?

Hi Jessica - Yep, if you have an pre-filled oil cartridge you can screw it on and fire it up. The atomizer should be inside the cartridge.

Hello I'm just curious because I've never bought one of your pens but how long will the battery stay in a useable condition

With normal use these batteries last for years. :)

I am looking for a push the button once for a hit or an auto draw with a twist voltage. I do not want the clicky one, that you have click 15 times to get a hit, turn on and off, etc. Is this what I am looking or do you have any like what I am looking for? If you could please let me know, I would greatly appreciate it. Thanks so much

Hello Gina. The EVOD Twist VV Battery 1300mAh requires 5 rapid click on the button to turn it on and off. Then you'll only need to hold the button to take a draw.

Hopefully this helps!

Do it comes with wax

No, it does not.
Customer Reviews
10/28/2023
Paul C.

United States
07/20/2023
Great Pen
Overall, love the pens, especially my EVOD TWIST 1300mah pen since the cap to increase/decrease the voltage NEVER breaks. Great pulls from it!
Brittney B.

United States
07/15/2023
I recommend this product
best battery i've had
i had a really janky old one that broke on me and this was a lifesaver. absolutely recommend
Anonymous

United States
07/09/2023
I recommend this product
Hits good would buy again
I think it hits very good and case to travel with
Jill G.

United States
04/25/2023
I recommend this product
Best for me
The product is difficult to find in my area. I seeked the internet and found Slickvapes.com. They answer emails swiftly, and professionally to make certain their customers are informed, updated and satisfied,
Anonymous

United States
03/29/2023
I recommend this product
Most reliable and robust vape battery I've ever used!
Simply highly recommended. No need to think it over.
Jay B.

United States
03/21/2023
I recommend this product
Best that I have found in a long time.
This battery is the best I have found in a long time. This one works amazingly compared to others I had purchased. I do recommend these and as for me I will be a come back customer. Ty
LINDA P.

United States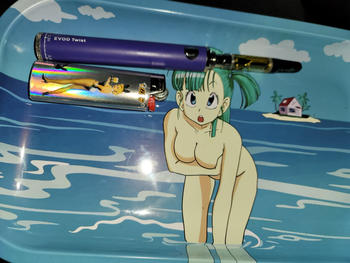 03/07/2023
I recommend this product
I got exactly what I needed & it looks great. I recommend.
Tim B.

United States
02/28/2023
I recommend this product
Great vape pen
So far so good! It came on time and the cartridge is big enough for thick oils! Thumbs up!
cleopatra w.

United States
Price Match*:
Want to buy EVOD Twist VV Battery 1300mAh for sale online at the cheapest price?
Visit Slick Vapes to find the best discount and deals. We can match the sale price of any authorized dealer so you can purchase with confidence. All price matches will be subject to verification and approval. (Exceptions) Please Note: due to contracts and agreements with certain brands and merchants we may not be able to offer this.
---
Share this Product