1
Free Shipping

Free Returns

Authentic
Focus V
Carta Vape Rig V2
Dry Herb
Concentrates
$25 Off w/Coupon: CARTA10
(Sale Ends Soon!)
Features
Newest Version 2.0
Carrying Case Included!
Glass Carb Cap
Intelligent Temperature Calibration
Crimson Red/Emerald Green Bonus Items:
SIC Insert ($30 Value)
SIC Atomizer ($60 Value)
Optional Accessories:
---
.... and they're back! Carta Vapes's have been moving fast - Act now to get your hands on the latest release.
The Focus V Carta Vape Rig V2 is a portable electric dab rig with modern features. It's the newest dab rig packed with features for easier use and more of a fun experience. We love this new device at SlickVapes HQ. Carta Vape reviews in house with bettter results than the competition; (Puffco Peak & Switch)  at a budget friendly price point!
This is the latest newest Carta version 2 Focus V has released. 
One reason Carta Vape Rig stands out from the rest of e-rig out there is because its a 2-in-1 device allowing you to switch from dry herb to wax easily. Its reasonable price makes it one of the best selling and popular device in the market. 
Please note: Dry Herb Atomizer is required for dry herb material now available! (sold separately)
If you like to vape dry herbs and wax then there's no more need to buy separate devices. The last rig you will ever need is the Carta Rig. 
The rig is bluetooth ready making it easier to use. This 2-in-1 device is all you need to put your vaping experience into a next level. You may also get a custom glass and cab caps making your rig stylish. 
Extra carta v2 wax atomizers can be found here along with other carta accessories.
Features:
2-in-1 Electric chambers (with optional Dry herb atomizer)
Charges in 30 minutes (Using USB-C Charging Port - Removable Replaceable 18350 Batteries)
Water Bubbler with Borosilicate Glass Mouthpiece
Portable with case - Stands less than 8″ in height
Haptic feedback letting you know when the unit is on/off and at desired temperature
1 Year manufacturers warranty on Base. V2 atomizers - 90 Day mfg warranty. Everlast Atomizers - 6 Month mfg warranty. Dry Herb Atomizers - 90 Day mfg warranty. 
Recommended Optional Parts:
What's Inside the Box (Original) :
1 x Focus V Carta Vape Rig
1 x Carta Atomizer (for wax included)
1 x Borosilicate glass carb cap
1 x USB-C charging cable
2 x 18350 batteries
1 x Wax chamber
1 x Carrying case
1 x Pack of Alcohol Wipes
1 x Dab Tool
1 x Quartz Bucket
1 x Titanium Bucket
What's Inside the Box (Magna Carta Model):
Upgraded Magna Kits feature all black Carta w/Black Glass, Black Bubble Carb Cap, and a Gun Metal atomizer to complete the Blackout on this custom kit. 
The Holy White Kit features an all white Carta with gold trim, and a frosted white glass top.
1 x Focus V Carta Vape Rig
1 x Carta Wax Atomizer (Bonus)
1 x Dry Herb Atomizer (Bonus)
1 x Rebuild Kit (Bonus)
1 x Borosilicate glass carb cap
1 x USB-C charging cable
2 x 18350 batteries
1 x Wax chamber
1 x Carrying case
1 x Dab Tool
1 x

Pack of Alcohol Wipes

2 x Quartz Bucket
2 x Titanium Bucket
Unit Temperatures:
1=500 F
2=630 F
3=770 F
4=842 F
Carta V2 Discount Codes?
See Our Latest Carta Coupon Codes
Can the Focus V Carta vape dry herbs?

Yes, however you will need the dry herb atomizer attachment (not included in kit). This is an add on accessory that will be released later this year.

Thanks for your question!

Hey is there a app that I can uae to control the temp? Thanks

Hello Derek. Yes, the app allows you to control 4 temperature presets. To download the app, you may visit this link https://www.focusvproducts.com/pages/carta-ios-app-install-guide

How does the Carta Focus V get charged with or without the batteries? How long does the initial charge require?

Hello Nilda. The Carta units use USB-C to charge, so they charge fairly fast. Normally about 1 hour or less. If you have extra carta batteries you can use an external charger like the nitecore i2 so you don't run out of power anymore.
Customer Reviews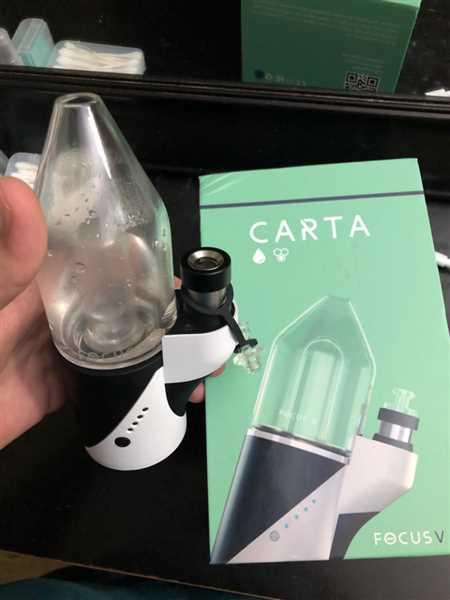 03/10/2020
Awesome product!
Carta is awesome if you want to get rid of the rig and torch experience, could come with the everlast would be cooler and should have better cs, but overall if you keep it clean and check after every 3 hits you'll be running forever!
Danny G.
United States
02/03/2020
Nick M.
United States
01/27/2020
very good
I know a lot of you think these are fake and I'm here to give y'all a point of view in your shoes I'm a 21 year old dude and the carta is worth every penny it comes with more than just a puff co and a case
Cornilious W.
United States
01/04/2020
Outstanding
Product delivers consistent delivery of product while being modern and stylish .
Greg A.
United States
12/23/2019
Swag
Quality product and shipped fast
Reed D.
United States
11/16/2019
Carta Rig
Great! I used to only use regular quartz rigs. This is easier for travel and convenience.
Anonymous
United States
11/13/2019
better than expected!
it works great with all concentrates, i have yet to try the dry herb atty. i highly recommend its easy takes 80% of the work out of normal dabbing.
Carl P.
United States
10/15/2019
Best service ever
They saw my problem and addressed it same day
Jackson M.
United States
10/06/2019
Awesome!!
Bought and Love!! Wanted to dab but not go thru the hassle of torch, timing exact temp...... This is easy and great puff
Alana S.
United States
Price Match Guarantee*:
Want to buy Carta Vape Rig V2 for sale online at the cheapest price?
Visit Slick Vapes to find the best discount and deals. We can match the sale price of any authorized dealer so you can purchase with confidence.
---
Share this Product