1
Free Shipping*

Free Returns

Authentic
Focus V
Carta Vape Rig V2
Dry Herb
Concentrates
$25 Off w/Coupon: CARTA10
(Sale Ends Soon!)
Features
Newest Version 2.0
Carrying Case Included!
Glass Carb Cap
Intelligent Temperature Calibration
Crimson Red/Emerald Green Bonus Items:
SIC Insert ($30 Value)
SIC Atomizer ($60 Value)
Optional Accessories:
---
.... and they're back! Carta Vapes's have been moving fast - Act now to get your hands on the latest release.
The Focus V Carta Vape Rig V2 is a portable electric dab rig with modern features. It's the newest dab rig packed with features for easier use and more of a fun experience. We love this new device at SlickVapes HQ. Carta Vape reviews in house with bettter results than the competition; (Puffco Peak & Switch)  at a budget friendly price point!
This is the latest newest Carta version 2 Focus V has released. 
One reason Carta Vape Rig stands out from the rest of e-rig out there is because its a 2-in-1 device allowing you to switch from dry herb to wax easily. Its reasonable price makes it one of the best selling and popular device in the market. 
Please note: Dry Herb Atomizer is required for dry herb material now available! (sold separately)
If you like to vape dry herbs and wax then there's no more need to buy separate devices. The last rig you will ever need is the Carta Rig. 
The rig is bluetooth ready making it easier to use. This 2-in-1 device is all you need to put your vaping experience into a next level. You may also get a custom glass and cab caps making your rig stylish. 
Extra carta v2 wax atomizers can be found here along with other carta accessories.
Features:
2-in-1 Electric chambers (with optional Dry herb atomizer)
Charges in 30 minutes (Using USB-C Charging Port - Removable Replaceable 18350 Batteries)
Water Bubbler with Borosilicate Glass Mouthpiece
Portable with case - Stands less than 8″ in height
Haptic feedback letting you know when the unit is on/off and at desired temperature
1 Year manufacturers warranty on Base. V2 atomizers - 90 Day mfg warranty. Everlast Atomizers - 6 Month mfg warranty. Dry Herb Atomizers - 90 Day mfg warranty. 
Recommended Optional Parts:
What's Inside the Box (Original) :
1 x Focus V Carta Vape Rig
1 x Carta Atomizer (for wax included)
1 x Borosilicate glass carb cap
1 x USB-C charging cable
2 x 18350 batteries
1 x Wax chamber
1 x Carrying case
1 x Pack of Alcohol Wipes
1 x Dab Tool
1 x Quartz Bucket
1 x Titanium Bucket
What's Inside the Box (Magna Carta Model):
Upgraded Magna Kits feature all black Carta w/Black Glass, Black Bubble Carb Cap, and a Gun Metal atomizer to complete the Blackout on this custom kit. 
The Holy White Kit features an all white Carta with gold trim, and a frosted white glass top.
1 x Focus V Carta Vape Rig
1 x Carta Wax Atomizer (Bonus)
1 x Dry Herb Atomizer (Bonus)
1 x Rebuild Kit (Bonus)
1 x Borosilicate glass carb cap
1 x USB-C charging cable
2 x 18350 batteries
1 x Wax chamber
1 x Carrying case
1 x Dab Tool
1 x

Pack of Alcohol Wipes

2 x Quartz Bucket
2 x Titanium Bucket
Unit Temperatures:
1=500 F
2=630 F
3=770 F
4=842 F
Carta V2 Discount Codes?
See Our Latest Carta Coupon Codes
WHEN WILL YOU HAVE THE MAGNA CARTA ALL BLACK BACK IN STOCK

Hi Angela, it is highly likely that the Magna Carta will no longer be available as it was a limited edition run. Stay tuned for their Nebula release though :).

How does the Carta Focus V get charged with or without the batteries? How long does the initial charge require?

Hello Nilda. The Carta units use USB-C to charge, so they charge fairly fast. Normally about 1 hour or less. If you have extra carta batteries you can use an external charger like the nitecore i2 so you don't run out of power anymore.

Hey is there a app that I can uae to control the temp? Thanks

Hello Derek. Yes, the app allows you to control 4 temperature presets. To download the app, you may visit this link https://www.focusvproducts.com/pages/carta-ios-app-install-guide

Can the Focus V Carta vape dry herbs?

Yes, however you will need the dry herb atomizer attachment (not included in kit). This is an add on accessory that will be released later this year.

Thanks for your question!
Customer Reviews
07/02/2020
I recommend this product
Only used it like 20 times and the atomizer died. Hopefully its just a bad atomizer.
brian s.
United States
06/22/2020
I recommend this product
The BURN
This thing... burns so smoothly, you'll wonder if you got anything from it! It brings out the taste of the terpines without having the "skunky" taste that comes with wax. I smoke like a steam train, so this thing gets an insane amount of use. 1) BE SURE TO USE SMALL DABS!!!! If you forget, you WILL burn out your atomizer. Given that the world is losing it's marbles at the moment, I don't recommend going without the sweet vapors of the gods. 2)Charge on this sleek bad boy lasts forever: I've had it over a month, and every time I do a dab, I have to make more than one, yet the charge still holds for a week or more! 4)The atomizer (Did you realize I skipped 3?) -There are several options for the atomizer, including ceramic, titanium, or "everlast" atomizer. -I've changed mine out to the "everlast" because it is aptly named. The taste is more subtlewith this burn due to the material used in the atomizer. It is smaller than I anticipated, but not doll hands small; and my husband with giant "Wreck It Ralph" hands used it just fine. I would buy this again, so many times. MAY MARRY MY FOCUS V CARTA
Ephemra M.
United States
06/03/2020
I recommend this product
Worth the cost!
When I received it I was hesitant because it just seemed smaller than I thought it would be despite seeing it in the images for reference. But good things come in small packages and this little ****** does the job. So far it has given me good rips off wax, budder, live resin, shatter and dab tabs. It handles all the concentrates I have thrown in it and done me better than I thought. Well worth it for a little bubbler/enail rig!
Drew W.
United States
05/10/2020
Quick, easy and convenient
Fast heating, easy to use and clean, convenient for travel
Claudia C.
United States
05/05/2020
I love my carta
After finally figuring out that flashing white lights aren't always a bad thing. And replacing the stock batteries. I would definitely recommend.
Elizabeth V.
United States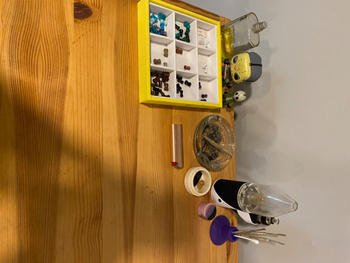 05/02/2020
Great unit
Product has been great. Make sure you have atomizers around keep this guy clean and it'll keep you well elevated. Slickvapes, was a wonderful to work with. Ensuring they gave me the best deal around, for sure using them moving forward. In fact, have multiple times already. Happy happy.
Chris E.
United States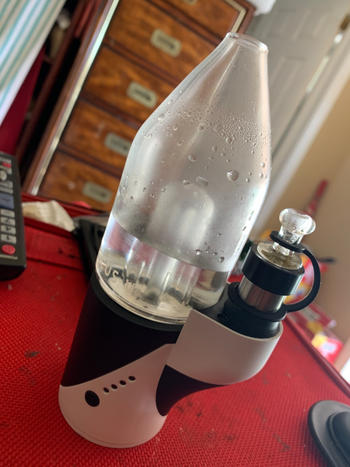 04/27/2020
It's the best device ever
I haven't been able to stop using it ahaha I love everything about it could have done a little better while air flow but over all it's a beauty plenty of clouds love the variety of levels my personal favorite is on the second level well worth every penny
Miguel P.
United States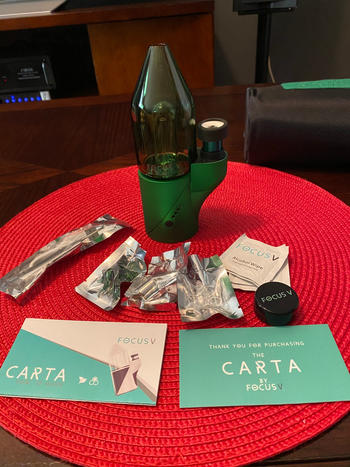 04/24/2020
Get ready to throw your torch and old rig away, this thing rocks!
From the unboxing of the product to its simple to use one button operation, this vape is the best I've ever tried! The included alcohol swabs and wipes are very nice as are the extra quartz and titanium buckets as while this does get dirty after using for a session, it is nowhere near as bad as videos I have seen online if you keep up on it daily/few times a week and the modular design is very easy to take apart and clean all the threads and holes, etc…my only complaint is they should include more of them but I have been just soaking q-tips in iso or a glass cleaner which gets the job done very quickly. The instructions say to clean out the bucket after each dab, which I find a bit on the heavy side, if switching after a few sessions to a different strain and want to make sure the taste is 100%, sure clean it quick or switch to an extra bucket laying around but really something you could do at the end of the day. I have been using on the level one heat setting which is 500 degrees F, makes for the perfect taste of the high end concentrates I purchase from Moxie, Cresco, gLeaf, Grassroots, Prime, Illera and Terrapin and what I would normally consider a small to mid size dab will get me at least two 30 second rounds with full flavor and nice dense clouds, some even get three 30 second rounds but the flavor usually starts to die off by then. This usually works out to about 10 nice sized pulls, depending on concentrate and is WAY more efficient than the dab rigs and straws I have! For some concentrates I will up it to the level 2 heat setting which maintains most of the terps and gives very dense clouds, I honestly do not see a reason to go higher than this setting other than after doing a big load to make sure you clear everything out and get your full bang for the buck OR to quick heat up the bucket to pull out and swab quick to clean (works so quickly when it's hot, just get some nice tools to not burn yourself!) Also, I have yet to travel with this bad boy but the included case is awesome and has compartments for everything you need and is small and discreet enough to pass any security you would find at a smaller train station or bus stop as it just blends in with your regular luggage! The battery life may be an issue for some large sessions with many people so I would suggest having an extra set of batteries if you go somewhere without a usb port to charge it! (it takes about 1 hour to charge, max - first time use needs charged so if you're anxiously awaiting, go pick up some batteries locally and charge them so you don't have to wait when you first open it!) I have limited use with the app which is a nice feature as having an iPhone makes it almost impossible to use the smart features of any vape these days (I loved my Pax Era app before they nerfed it!) but after playing around with it, I have found that unless I want to dial in a really low temperature, that's the only reason I would use it and it is very basic in design/layout/etc but gets the job done. It looks much nicer for the Androids but I don't have a device to try and also don't like relying on having my phone nearby to control my smoking experience, rather I prefer the simplicity of the manual buttons and the low temp setting is PERFECT for those who like to get a nice size cloud without losing flavor! I see myself setting up the 5 user presets in the app for very low temp dabs below 500 degrees F or for longer sessions when I plan to use it as a more traditional rig as opposed to preloading, which is my preferred way of using this device currently as I was getting tired of the torch and visual appearance of taking dabs with a rig! All in all, I would give this product 4.5 stars if possible as there are a few minor things like the manual not being the most informative and having to go online to watch videos to make sure I understood everything properly as to not break something so expensive but at the end of the day, this thing ROCKS and makes the word "portable" feel like a joke as this is my new "home" desktop device! Highly recommended!!!
Dru B.
United States
04/21/2020
best E rig ever!
price was right, shipping was great, I am one happy customer!
Anonymous
United States
Price Match*:
Want to buy Carta Vape Rig V2 for sale online at the cheapest price?
Visit Slick Vapes to find the best discount and deals. We can match the sale price of any authorized dealer so you can purchase with confidence. All price matches will be subject to verification and approval. (Exceptions) Please Note: due to contracts and agreements with certain brands and merchants we may not be able to offer this.
---
Share this Product