Free Shipping*

Free Returns

Authentic
Oozelife

Ooze Slim Pen TWIST Battery w/Smart USB Charger
Concentrates
Features
510 Threaded 320mAh Battery
Smart USB Charger (Fast Charging)
Auto Safety Shut off 
Adjustable Voltage: 3.3V - 4.8V
What's Inside the Box:
Ooze Slim Battery
Smart USB charger
Looking for Replacement Charger?
---
Note: Wax Cartridge Not Included. This item works with ceramic atomizers and cartridges.
The Ooze Slim Pen Battery defeats latest high end 510 vape batteries out there. 
Features a quick heat up mode.
15 seconds of continuous heating without holding the button. With adjustable temperature settings allowing you to have more control.
Compatible with all oil, concentrate, and essential oil cartridges with a 510 thread, and voltage settings range from 3.3V to 4.8V. 
How to Use:
Turn on by clicking button 5 times rapidly (within 2 seconds) 
Light will illuminate when you hold the button indicating the battery is turned on.

When the battery is turned off, holding down the button will not illuminate a light.

Adjust Voltage: Twist the bottom of the pen to adjust voltage from 3.3V to 4.8V.
Pre-Heat Mode: Press Button 2x quickly - Cartridge will activate 15 seconds continuously then turn off. Press Button 1x to stop heating.

These colors indicate the charge. 

Green = Full Charge,

White = 50%,

Red = Needs Charge
For more information you may refer to the Ooze Twist Slim Pen Manual.
What's Inside the Box:
Ooze Slim Battery
Smart USB charger
Tags: oozelife, ooze life vape batt, variable voltage
what does it mean when your battery is fully charged and the light flashes multiple times but does not vape?

The most common reason you will get a flashing green light (10-15) times is battery issue. It also can mean a defective atomizer or short in the atomizer. Try first swapping cartridges with a new one that you know works. If the blinking persists you can contact ooze customer support. let us know if you have any issues

what dose it mean when the light flashes multi time but then dose not make vape

When your Ooze vapor battery is dead, it will typically flash green 10-15 times.
When your battery is having a connection issue, the battery will typically blink green 4-5 times.
Hope that helps!

Can this pen be used with concentrates and shatter batter

This will require an atomizer, or cartridge as this comes with only a battery and charger. If you have just the material, you can use an atomizer like this Yocan wax atomizer.

What's in the box Just to make sure, it contains the actual pen correct? Plus the slim battery. I know I'll have to get the cartridge. Thank you

Contents: 1x Ooze Twist Battery + 1x Ooze Charger and instructions printed on the box :)

discrete packaging?

Yes, we ship discrete!

What kind of liquid do I need?

Since this is just a battery w/charger you'll need to attach a pre-filled cartridge.

Do you know if it gets delivered in the mailbox or do they leave it in front of the door?

Hi Hannah, it depends on the USPS carrier you have. However, this package is very small (size of an envelope) so in most cases they will leave it in your mailbox with your regular mail.

does it come in the ooze box?

Yes, this comes in an ooze retail package

does this come with the cartridge

No, this only comes with the battery and charger :)

Are you based in the USA? How long would it take for me to receive it, I'm in Staten Island, NY 10314? Is shipping free?

Hi Jack, Yes - this item is shipped out of our California warehouses within 0-1 business day. Shipping is free for orders over $49.99. Delivery times selectable and estimated at checkout from 2-5 business days.

With a tk extracts cart fit on this

Hi, Yes, this is the perfect battery for 510 threaded cartridges

When I put the cart on my battery and tried to turn it on, it wouldn't turn on even thought it's fully charged.

Please make sure the battery is illuminating green when you press the button.
If not press the button 5x quickly to toggle on/off.
If you're still getting no vapor while the battery is on and cartridge is installed try adjusting the bottom of the battery and turning it clockwise to increase the voltage.

Let us know if that works!

Are these compatible with dank vape carts?

The Twist is compatible with most catridges including ceramic atomizers because of it's variable voltage capability. If you have any issues with compatibility just contact us and we'll take care of you!

where can i get a pre-filled cartridge for this battery?

You can find pre-filled cartridges at your local dispensary where allowed. Unfortunately, these can not be purchased online in the United States.

What type of packaging does this arrive in? Is it discrete?

Yes, all our orders ship in unmarked packages or boxes :)

Will this battery work on Muha Meds cartridge?

Hello Marley. Yes, it will work. The Ooze slim pen is for ceramic cartridges/atomizers.

So i'm thinking about buying this but what cartridge do you recommend? And what all accessories do i need to purchase for this?

Hello Lindsey. The Ooze Slim Pen is designed for Pre-filled Oil/Concentrate Cartridges. Or you can purchase an empty tank like the KandyPens Glass Oil Tank and fill it up with your desired oil.

I just bought my pen yesterday and it won't heat after I put to charge

Hello. May I know what type of cartridge were you using?

My pen keeps flashing green when I go for a hit

Hello Gill. When the ooze slim battery is dead, it will flash green 10-15 times. When the battery is having a connection issue the battery will blink green 4-5 times. If you're still having issues with your ozze slim pen, please send us an email at contact@slickvapes.com
Customer Reviews
94
reviewers would recommend this product
Write a Review
02/06/2023
I recommend this product
THE BEST
Best battery that lasted a long time. Recommend this type to anyone!!
Anonymous

United States
08/10/2022
I recommend this product
I'm happy I bought from here
It has a great feel, it came fast, and the customer service is great.
Christopher B.

United States
06/29/2022
I recommend this product
Great product
Charger works perfectly and the pen gives a lot of voltage for a cheap price would recommend
Rolens S.

United States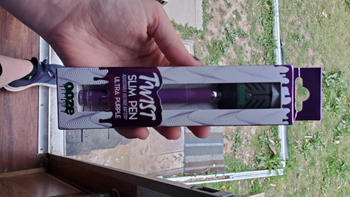 05/12/2022
I recommend this product
It's my favorite
It's cute, easy and convenient
Anonymous

United States
05/01/2022
I recommend this product
Great product
I love the variable power of this inexpensive vape battery
Anonymous

United States
04/03/2022
I recommend this product
Love it
It takes no time to charge and you can fit it anywhere in any pocket
Renee B.

United States
03/31/2022
I recommend this product
Best Vapes!!
Fast Shipping Great Product
Anonymous

United States
02/19/2022
I recommend this product
Great, easy to use
Easy to use, love the temp change is separate from the on/off button
Anonymous

United States
02/16/2022
I recommend this product
Excellent
Charges quickly, great battery life, excellent product overall.
Alan M.

United States
Price Match*:
Want to buy Ooze Slim Pen TWIST Battery w/Smart USB Charger for sale online at the cheapest price?
Visit Slick Vapes to find the best discount and deals. We can match the sale price of any authorized dealer so you can purchase with confidence. All price matches will be subject to verification and approval. (Exceptions) Please Note: due to contracts and agreements with certain brands and merchants we may not be able to offer this.
---
Share this Product