1
Free Shipping*

Free Returns

Authentic
Pulsar
Pulsar APX 2 Vaporizer
Dry Herb
Use Coupon Code: SLICKDAILY to get 10% Off!
(Sale Ends Soon!)
Features
Newest Version 2.0
5 Preset Temps (356F-428F)
Convection Oven
30 Secs Heat Up Time
Enhanced LED Display
Optional Accessories
---
The PULSAR APX 2 Dry Herb Vaporizer by Pulsar is a budget friendly, portable and lightweight device that fits perfectly on your palm. Upgraded from its predecessor, the APX 2 features a rubber multi-function button for a more controlled and comfortable touch.
The team here at Slick Vapes has given stellar reviews on the APX 2. As a simple and easy to use go to with very little learning curve it's no wonder why it's also our best selling vape in it's category!
This device remains the most popular of our dry herb vaporizers simply due to its stable operation, quality build and killer price point.
It Just Got Better! 
APX 2 creates strong smooth vapor within 30 seconds. Not only it heats up faster but it has also an enhanced LED display for better control. Compared to its predecessors, it has a wider 10x16mm ceramic chamber plus a finely tuned temperature settings. Pulsar Vaporizers didn't hold back on features on APX 2 even with its low price. At a much lower cost than average units the APX 2 is a total gem!
Less Maintenance
Compared to the original APX the new design features an all silicone mouthpiece in place of the replacement screens. This lessen the maintenance and improves airflow. 
Performance
While it offers the same performances like the original APX, the new version is still impressive specially considering the price. 
Haptic Feedback
Although the new APX doesn't include the wax tank anymore, the addition of haptic feedback and new mouthpiece is more than enough to make up for it. The haptic feedback alerts the user once the devices reaches certain temperatures.
Stylish Design
Pulsar intentionally made it minimal but attractive at the same time. 9 different color/design to choose from. The refined finish makes the device feels more solid.
See Our APX 2 Reviews Below
What's Inside the Box:
1 x Pulsar APX V2
1 x USB Cable
1 x Cleaning Brush
1 x Loading Tool
1 x Replacement Mouthpiece Silicon Insert
CLICK HERE TO DOWNLOAD:

APX 2 Accessories:
Shown above is the APX with optional Travel Case and 1.2" Aerospaced 2 Piece Grinder
Does this vaporizer have ceramic coils? I heard that's one of the safest materials to vape

This APX 2 has a ceramic chamber with an internal heating element (conduction + convection) which does not have any exposed heating coils - the oven rises in temperature allowing to vape your dry material. The Pulsar APX 2 is nice because it doesn't combust your material directly like some "dry herb vaporizers". example: yocan evolve-D.

Do I need to purchase screens for this?

The Pulsar APX 2 does come with one installed screen so additional screens are not necessary initially. We recommend changing screens (as needed) once the screen has been soiled and affects taste and airflow of your vaping.

Is this a session or on demand vape?

The APX 2 is a session vape. Pressing the button 5 times will begin heating the oven, once display is solid and no longer pulsing (heat up phase) you may begin vaping as the oven is at the chosen temperature. Holding the button for 3 seconds once on will begin cycling through it's temperature settings.

does it come in discrete packaging?

Hello ambs. Yes, we place a very high value on your privacy, so your orders will always be shipped in plain, unmarked packaging. Our packaging is inconspicuous with no indication of the contents on the outer packaging; no Slick Vapes logo, no product indications.
Customer Reviews
05/17/2020
Anonymous
United States
05/14/2020
Great value! Super stylish
Really good, super stylish and works good just wish it would stay charged longer. It only lasts for about 4-5 uses before it needs recharging.
Nick A.
United States
05/13/2020
Nice Mother's Day present
It's simple so even my 74 year old mother had few problems grasping the controls. Helps a lot with her back pain and depression.
Anonymous
United States
05/08/2020
Small and Discrete
am really enjoying this dry herb vape. the Pulsar APX Vape V2 is small and descrete and heats up super fast. Small learning curve on proper heat and draw, but once you are set its all good!
Jason T.
United States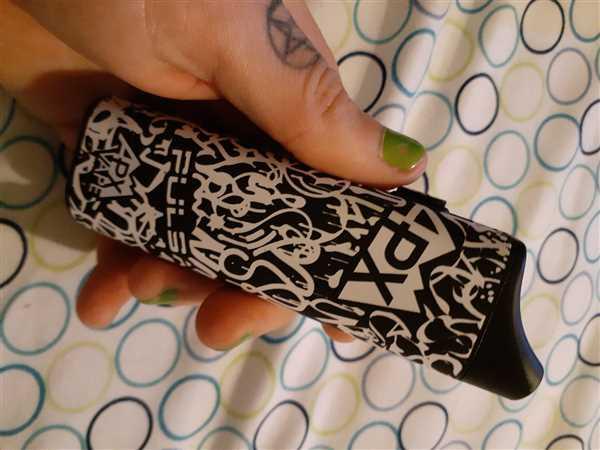 05/08/2020
Wish I would have known about this sooner!
This has changed the game for me entirely! The only regret I have is that I didn't buy this sooner. It's saving me a lot on bus, because I need a lot less now, and it's using up everything instead of burning unevenly like it was in my old pipe.
Anonymous
United States
05/05/2020
Pulsar APX 2 Vaporizer is Great.
This vape is perfect for me as it's made for single doses and I use mine for medical reasons. Also, there is little if any smell. I used it in the house once and my family didn't even notice. Would definitely recommend.
Anonymous
United States
05/02/2020
Nice vape!
I needed an alternative to vape cartridges, and this is perfect! Easy to use. Easy to clean. Adjustable temps. Good quality vape for the price.
Stephany R.
United States
04/26/2020
Dope dope dope
First time buyer of a vape and this did not disappoint. Small and compact. Easy to take everywhere. Good pull and feels good to hold. Holds a good amount of herb. Definitely worth it if you're a first time buyer like me.
Jomar L.
United States
04/26/2020
Great vape!
very easy to use, great for first time users. battery life is good.
michael z.
United States
Price Match Guarantee*:
Want to buy Pulsar APX 2 Vaporizer for sale online at the cheapest price?
Visit Slick Vapes to find the best discount and deals. We can match the sale price of any authorized dealer so you can purchase with confidence.
---
Share this Product