1
Free Shipping*

Free Returns

Authentic
Pulsar
Pulsar APX 3 Vaporizer
Dry Herb
Features
New Version 3.0
LARGER 0.5 gram ceramic heating chamber
New "Cash" mode for high temps & big rips
New heat-resistant mouthpiece
What's Inside the Box:
1 x Pulsar APX 3 Vaporizer
1 x Cleaning Tool
1 x Reusable Packaging bag
Optional Accessories
---
The Pulsar APX 3 (V3) Vaporizer is newest and improved herb vaporizer from Pulsar. The APX 3 combines a portability with a maximized herb chamber to offer an incomparable vaping experience. Compared to its predecessor, the APX 3 can hold up to 60% more material.
The new APX 3 highlights a quick 30 second heat up time. APX 3 has an LED screen with haptic feedback which keeps you informed of battery life, temperature and setting. It also boast a simple 5-click power and auto turnoff feature. 

Features:
Larger 0.5 gram ceramic heating chamber
1600mAh battery capacity
New heat-resistant mouthpiece
5 variable heat settings - 374°F - 446°F (190°C-230°C)
Multiple color & design to choose from!
What's Inside the Box:
1 x Pulsar APX 3 Vaporizer
2 x Replacement Screens

1 x Reusable Packaging bag
1 x Charging Cable (Micro USB)
1 x Stir Tool (built in)
1 x Cleaning Brush
Optional Accessories:
 New designs!
The design, "MrOw", by artist Courtney Hannen depicts a wild cat in humble decay, surrounded by tendrils of nature.
The Melting Shrooms is an image of a colorful psychedelic dream.
The Zion Lion design features a sketch graffiti style lion in rasta colors.
The design, "Psychedelic Desert" by Amberly Downs is a stunning artwork of a vibrant desert scene, ripe with flora, fauna, aliens, and other eerie creatures of legend. 
QUESTIONS & ANSWERS
Have a Question?
Be the first to ask a question about this.
Ask a Question
Customer Reviews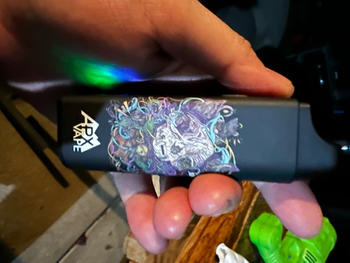 06/01/2022
I recommend this product
Great buy
I love it! Its not hard to operate, gives me good and clean hit.
Anonymous

United States
04/20/2022
I recommend this product
Perfect
Perfect get it if you're thinking about it
Kiarra C.

United States
04/09/2022
I recommend this product
AMAZING
Ok, honestly? If you can get this, GET IT! Feels great in the hands. glazed porcelain, it's not porous in the chamber. SMOOTH! So smooth and smoke-free that I wasn't sure that it was actually working. But believe me.... it was. ;) No odor. DOES NOT OVERHEAT! Cash feature! Which btw is great. The only thing the manual did not go over is how to change the screen. It looks like you just pop it off, as there is a seal around it and a nub to pop it off. I was not able to pop it off and didn't want to break it on my first day. % stars definitely. This is my third vaporizer ever. I'd go back to this time and time again it is that amazing.
P.

United States
04/03/2022
I recommend this product
Great
Buy 2 , rotate them cause you will not be able to put it down . Best vape for the money , I have several, most are not up to the task . Wood grain design is really kool . The manual explains everything, Different heat settings for all types of vapors , the hottest setting makes big vape , the least setting also puts out ok vape , w a chance to taste the herb grind , without a popcorn taste u may get at higher settings. No brainer here .
Glenn T.

United States
02/22/2022
I recommend this product
Its incredible
thick plumes no matter what setting ..low or high. the effect you feel is amazing because of this. WOW.
Enter y.

United States
02/12/2022
I recommend this product
Incredibly simple!
I love this Pulsar APX 3 Vaporizer! Very simple to use! Easy to clean! Bonus...you can process the ABV (already burnt vape) into a useable product!
Anonymous

United States
01/26/2022
I recommend this product
Good product
Has good features at this price point.
Charles K.

United States
12/08/2021
I recommend this product
Different from the APX2, good and bad
I have the previous version of the APX dry herb vape (which I love, but also has its flaws). I decided to upgrade and get this version, and I've discovered there are some things that I like, and some things that I don't. For example, it hits soooo smooth, but I have to fully clean it out more often because the ceramic part in the mouthpiece can get clogged pretty quickly. The haptic feedback has been improved, and it now buzzes during the automatic shutoff as well, which I like. I love the bigger chamber and also love that I can generally do two full sessions on a charge whereas with V2 I could only do one. All in all, it's definitely improved, there are just maybe a few things I would still tweak. But it really is a perfect budget dry herb vape. I recommend it to anyone looking for their first one at a good price.
Callie M.

United States
10/14/2021
I recommend this product
Great product!
I purchased the APX3 after using the APX 2 for a long time (which I love by the way) It is as good as the 2 but it does seem to have a longer battery life. I like the little instrument that fits in the bottom for tamping and stirring. I do have to use a lower heat setting on it but that's not a big deal. I now have two of the APX2 and one APX3 and I just alternate between them. Overall very satisfied with everything I have purchased from Slick Vapes.
Deborah P.

United States
Price Match*:
Want to buy Pulsar APX 3 Vaporizer for sale online at the cheapest price?
Visit Slick Vapes to find the best discount and deals. We can match the sale price of any authorized dealer so you can purchase with confidence. All price matches will be subject to verification and approval. (Exceptions) Please Note: due to contracts and agreements with certain brands and merchants we may not be able to offer this.
---
Share this Product