Free Shipping*

Free Returns

Authentic
Yocan
Yocan Hit Vaporizer
Dry Herb
10% Off Sale NOW! Use Coupon Code YOCANDEALS
(Sale Ends Soon!)
Features
Ceramic Based Conduction Oven
Smart Vibration Function
Small and Compact Build Vaporizer
What's Inside the Box:
1 x Yocan HIT Vaporizer
1 x Cleaning Brush
1 x USB-C Charging Cable
1 x User Manual
Optional Accessories
---
Just Released for 2020!

Yocan Hit Vaporizer is a portable dry herb vaporizer with a convection heating oven. This allows to produce a more natural flavor. A ceramic-based oven is used to heat up the material and produces quality vapor. The Yocan Hit was engineered to provide the best dry herb vaporization.

This is Yocan's newest highly anticipated release in it's dry herb vaporizer line. The biggest difference is this is the only (dry herb) yocan that uses a convection/conduction hybrid heating system to vape your dry herb.

Features:
Convection Heating Oven
Crisp OLED Display
USB-C Fast Charging
Temperature Control
Vibration Feedback
Better Airflow
What's Inside the Box:
1 x Yocan HIT Vaporizer
1 x Cleaning Brush
1 x USB-C Charging Cable
1 x User Manual
Yocan Hit Manual
Powering the Yocan Hit Vaporizer
Fully charge the Yocan Hit Vaporizer before use.
Once fully charged, click the power button 5 times in two seconds to turn on the vaporizer. The power button is located at the middle part of the vaporizer below the OLED screen.
How to Load the Yocan Hit Vaporizer
Grind your botanicals using a grinder. Finely grind your material for best result.
To open the chamber, remove the mouthpiece part and carefully load the materials into the ceramic chamber.
Place back the mouthpiece into the battery.
Note: You can use a paper as a funnel by folding it halfway preventing wastage of materials while loading
How to Vape the Yocan Hit Vaporizer
After the vaporizer is fully charged and loaded, press and hold the power button to start generating vapor and draw from the mouthpiece.
Repeat this process until all materials are completely consumed.
Note: Stir the contents of the chamber occasionally to prevent burning of materials. To do this, remove the mouthpiece from the battery by pulling it out. Use the stir tool to stir the materials on the oven to get an even heat.
Cleaning and Maintaining your Yocan Hit Vaporizer
The Yocan Hit Vaporizer is easy to clean and maintain. It only requires few steps to mantain the device;
Wipe-off using a dry cloth or tissue any dirt or residue on the battery to reassemble the Yocan HIT Vaporizer.
Make sure to use the dedicated charger that came with your kit and follow the charging instructions to avoid damaging your Yocan Hit Vaporizer
QUESTIONS & ANSWERS
Have a Question?
Be the first to ask a question about this.
Ask a Question
Customer Reviews
07/29/2020
I recommend this product
First time using one. It's ok I feel like I have to charge it a lot. Looking to purchase a more expensive one.
Pretty good . I like that the smell dissipates quickly.
Mona O.
United States
07/02/2020
I recommend this product
First time using one, it's working properly. If and when I get a chance will probably buy another one.
Anonymous
United States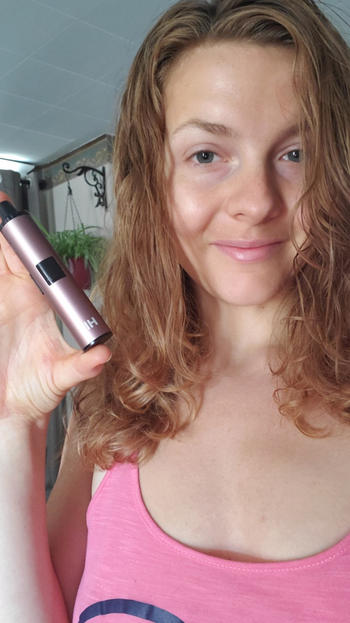 07/02/2020
I recommend this product
Awesome
perfect size for someone like me, who doesn't need alot. Easy to clean, and use.
Sarah H.
United States
06/16/2020
I recommend this product
Not great
Didn't get me high, it was a waste of my money
Anonymous
United States
Hi Drewr, We're sorry to hear about your experience with the product. Everyone will have a different experience and it may take time to dial in the perfect vaporizer for you. As there is no one vaporizer that is great for everyone. We have reached out to you to see if we could point you in the right direction. Stay safe :) Joseph
04/30/2020
I love this product use
I love this product use it almost exclusively.
Anonymous
United States
08/02/2020
Works pretty well
It does the job. Nothing fancy. Heats up quick, burns nicely. Be sure to grind and dry out your herb before packing. Don't leave cashed bowls in too long to let it gunk up.
Gregory T.
United States
07/22/2020
Excellent product for the price
The Yocan vaporizer is an excellent option for a lower cost product. I like that it gives you a timer for your sessions. I would recommend packing the chamber pretty tight but leaving a small gap between the bud and the cap. This will let you have a good amount of space to breath through. It also seems to work better with a dry bud instead of something more fresh and sticky.
Justin T.
United States
07/22/2020
Disappointed
The internal screen fell out. Where can I get a replacement?
William N.
United States
07/05/2020
My fav New toy
This heating element uses Convection, not combustion for a much Gentler alternative to smoking & other vapes. So flavorful. The battery holds a good charge. The chamber is larger than other pens. Only problem is that the mesh gets clogged when product is shredded too thin.
Anonymous
United States
Price Match*:
Want to buy Yocan Hit Vaporizer for sale online at the cheapest price?
Visit Slick Vapes to find the best discount and deals. We can match the sale price of any authorized dealer so you can purchase with confidence. All price matches will be subject to verification and approval. (Exceptions) Please Note: due to contracts and agreements with certain brands and merchants we may not be able to offer this.
---
Share this Product