1
Free Shipping*

Free Returns

Authentic
Puffco
Puffco Plus Vaporizer
Concentrates
Use Coupon Code: PUFFCO10 for 10% Off!
(Sale Ends Soon!)
Features
All Ceramic Heating Chamber
'The Dart' Integrated Loading Tool
Enhanced Airflow
Multiple Heat Settings
What's Inside the Box:
Puffco Plus Version 2 Battery and Mouthpiece
1x Puffco Plus Chamber
Cleaning Swabs
USB Charger
Recommended Accessories
---
It has arrived! The new standard for vaporizing essential oils from
Puffco
has arrived. The
PUFFCO Plus+ (Version 2) Vaporizer
 has the combination of flavor and discrete vapor for the dedicated connoisseur on the go. No metal coils. No glues. No compromises.
For the Connoisseur
An all inclusive, first of its kind, pocket nail designed to deliver highly potent, flavorful, and discreet vapor. Use the Dart to easily load a dose at a time and instantly experience full spectrum effects.
Related Puffco Plus Items:
What's Included in Version 2:
1x Puffco Plus Version 2 Battery
1x Puffco Plus Version 2 Mouthpiece Top (With Dart, stirring tool and button)
1x Puffco Plus Chamber
Cleaning Swabs
USB Charger
Manual
How To Use Puffco Plus
Press button 5x to turn device on/off (device will blink 3x)
Press button 4x to toggle between heat settings (Blue - Low Heat, Green - Medium Heat, White - High Heat)
Press button 1x and hold to vaporize and inhale while holding (light should remain solid- device will turn off after a few seconds to prevent from overheating.
Press button 2x - Device will enter sesh mode and continuously fire for about 12 seconds and turn off automatically.
note: if puffco plus light blinks 10x blue - battery is low and needs to be recharged. 
MOUTHPIECE / MASTERPIECE
A puffco exclusive innovation: We combined a carb cap and loading tool, all built into the mouthpiece. The puffco dart makes loading a clean and easy experience.
COIL-LESS CERAMIC BOWL
We innovated a pressure-sealed bowl, which evenly heats your oil instead of allowing it to come in direct contact with a heating element.
SESH-MODE FUNCTIONALITY
A puffco exclusive innovation: We pioneered a 12 second continuous heat mode by double tapping the button, instead of having to hold it. This gives you a full medicated dose or lets you share with friends.
3 HEAT SETTINGS
The freedom to select your own desired heat modes based on your consumption priorities and load size. From a light flavorful hit, to a thick smoke cloud.
ALL AT ONCE
The coil-less ceramic bowl evenly vaporizes your oil unlike coiled systems which scorch your materials. The loading tool and carb cap are built in to the mouthpiece so you keeping them safe and handy with every puff. There's no better mobile consumption method for your high quality concentrates.
The Puffco Plus was the most awarded vaporizer in 2016. This coil-free device has been designed to function just like a ceramic nail. Say goodbye to your blowtorch and timer, say hello to instant relief that fits in your pocket.
PUFFCO PRISM
As a separate accessory, the Puffco Prism is their revolutionary wax container that we designed specifically to fit the needs of today's concentrate connoisseur. Simply use the dart to remove a pre-measured dose from the Prism and secure your mouthpiece. Over and under filling is a thing of the past. We've given you the perfect way to load your device without delay.
Related: See our latest Puffco coupon codes
Can this be used for all types of wax and concentrates?

The Puffco Plus works best with solid wax type concentrates vs liquid.

hello upon purchasing the device do yiu recieve the metallic silver color or is there a option for the black one.

Hi Christian, The Puffco Plus currently comes in two colors: Black (which can appear metallic dark grey) and Vision (Rainbow)
Hope that answers your question!

Where does the grip piece go on the pen

You may place it on the replacement coil.

Are you able to attach a 510 thread cartridge to it?

Hello Daniel. Yes, the Puffco Plus Battery is 510 threaded.

Can you put other things in it instead of wax

Hello. The puffco plus is for wax concentrates only.
Customer Reviews
01/20/2022
I recommend this product
Amazing device
If you have to buy new coils you're using it wrong. Clean it. It's a mini rig not a wax pen.
Anonymous

United States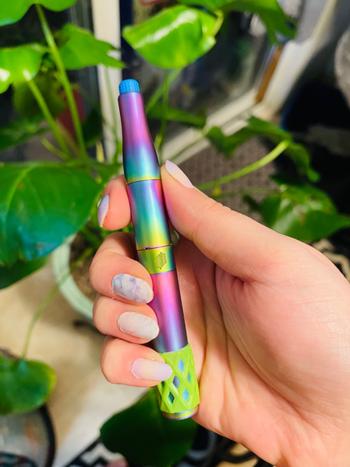 01/18/2022
I recommend this product
Magical rainbow vape stick ☁️
I love this lil thing. It's super convenient and easy to clean and produces great hits. I love how thick the clouds are, it's so fun and easy to do dabs with this guy. It works great with all the concentrates I've tried. Definitely recommend picking this up.
Cassandra D.

United States
01/13/2022
I recommend this product
The best pen I have purchased
My husband and I love our vape pen. It's so easy to use and keep clean.
Denice K.

United States
01/12/2022
I recommend this product
Great Product for on the go!
The puffco is an amazing tool for concentrates, works well easy to clean & is adjustable with 3 temps.
Anonymous

United States
12/14/2021
I recommend this product
Awesomeness
It's great for a dab on the go or a simple one person sesh. Very simple to clean and also super easy operation
Anonymous

United States
12/13/2021
I recommend this product
Best Ive tried!!
Great product! Best ceramic nail on the market!
Robert F.

United States
11/27/2021
I recommend this product
Lost the first one couldn't live without it.
Lost the first one couldn't live without it.
Shaun S.

United States
11/26/2021
I recommend this product
Fast shipping and great product
I paid for 2 day shipping for here right on time the product rips great and has decent battery life
Michael C.

United States
11/17/2021
I recommend this product
Best ive tried so far!
I liked this product so much i bought 2. Charging is super quick and last awhile! Smooth draws. Highly recommend.
Marlana F.

United States
Price Match*:
Want to buy Puffco Plus Vaporizer for sale online at the cheapest price?
Visit Slick Vapes to find the best discount and deals. We can match the sale price of any authorized dealer so you can purchase with confidence. All price matches will be subject to verification and approval. (Exceptions) Please Note: due to contracts and agreements with certain brands and merchants we may not be able to offer this.
---
Share this Product