Free Shipping*

Free Returns

Authentic
Smok
SMOK Nord Pod Kit
Liquids
Features
Powerful Portable Pod
Large 3ml E-liquid Capacity
Two Atomizers (Mesh & Regular Coil) included in Kit

Leak-Free Design

Intelligent Battery Indicator
Optional Accessories
Extra Coils
---
Behold, the Smok NORD, our best vape pod! Versitility, portability, and power all in one. Have you tried other vape pods only to leave you wanting more? Well this is it. We can't say how much we love this pod for both nic salts and regular vaping. 
The newest pod device from SMOK. Upgraded and improved. 
The SMOK Nord Accommodates MTL (Mouth-to-Lung) and DL (Direct Lung) vaping, with a larger, more ergonomic size and more powerful battery. 
The new Smok Nord starter kit has a beautiful mesh design with button-triggered pod system. 1100mAh battery life capacity that is extremely large among pod systems in the market, making it definitely a powerful one. Equipped with two exclusive coils, Nord Mesh 0.6omhs coil and Nord 1.4ohms regular. These powerful coils give you a great session and massive vapor clouds. The Nord is the perfect sized pod system device that can fit in your hand and in your pocket.
Features and Specifications:
94 × 30 × 18.8mm Dimensions
1100mAh Rechargeable Battery
3ml Liquid Capacity
Magnetic Cartridge Connection
0.6ohm Mesh Coil 
1.4ohm Regular Coil 
Compatible with the Nord Coil Family
10-15W Output
Powerful Integrated Battery
Single Button Operation
Improved Mouthpiece
LED Battery Life Indicator
Protection for: Cut off (8Seconds), Short Circuit & Low Voltage
Micro USB port
What's Inside the Box:
1 x Nord Mod
1 x Nord Cartridge
1 x 0.6ohm Mesh Coil (DL)
1 x 1.4ohm Regular Coil (MTL)
1 x USB Cable
1 x User Manual
What would be the best place in a budget for a salt nic vape or mod that has the same kink as a juul or smok. Just got the aspire pocket x and if only takes veggie oil and comes out like s hookah and even though I gel it up with sons of the 12 mg thinking it would help we'll it did not and wasted money. I just want a simple salt nic pen and some salt nic juice with it but which one do I even start. There's so many but I don't understand how these two things can be resolved, new basic nic piece and some salt nic with it, not just trying to buy pods every few days so maybe any piece or vape or mod I don't know the difference much but would love to start somewhere and be a loyal customer. I've searched high and low but still came up short always every time I wanna get one I'm not sure since the smoke shop owners are no help but I've been browsing through this website for days waiting to see or hear the eight news and knowledge just to know the difference and I already know salt nic goes really fast Into you blood and well I have to puff this hookah vape since it's all I have and I've been off tobacco for the past 3 weeks and now I'm feeling the urge to skip back into cigarettes and well let's not let that happen. I'm sorry for the long rambling story but I had to get that out to make it clear about salt nic and salt nic concentrate. My name Shant Kalashian most people just call me Kal to make it easy on everyone. I'm also 5'8 160 lbs if that helps in anyway. I need strong nic hits but want to refill my own. Thank you and hope to hear from you guys!

Hey Kal,

Thanks for the question. We vape salt nics and are currently in love with the Smok NORD with mesh coils. My recommendation is that if you want a JUUL strength vape with compact form and not changing pods daily is go with the NORD with mesh coils and grab two ejuices; one with 0 nicotine and one juice with 35mg or 50mg (naked 100 salts are most popular here). Take the two juices and mix them in another smaller container and test what ratio works best for you. Hope this helps!
Customer Reviews
05/15/2020
I recommend this product
Really like it
I bought it as a back up, but its actually my favorite now!
Anonymous
United States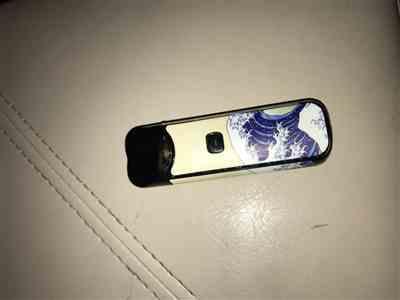 09/21/2019
Perfect Replacement of the Smok Novo
I bought the Nord because the pins on the bottom of my Novo became stuck after 6 months of use. The Nord has a larger battery capacity, holds more in the tank, and has better mouth to lung vaping. Definitely recommend anyone using a Novo to upgrade.
Connor G.
United States
06/29/2019
Coil Burns Easily
I have been using the 1.4 ohm coil for my nord and I have to be really careful that the tank doesn't run dry. My intention while purchasing this device was to have/maintain it for a very long time. Although the exterior has been very clean and there are no leaks from the pod, I have to purchase new coils because they keep burning. :/
Evan K.
United States
Price Match*:
Want to buy SMOK Nord Pod Kit for sale online at the cheapest price?
Visit Slick Vapes to find the best discount and deals. We can match the sale price of any authorized dealer so you can purchase with confidence. All price matches will be subject to verification and approval. (Exceptions) Please Note: due to contracts and agreements with certain brands and merchants we may not be able to offer this.
---
Share this Product